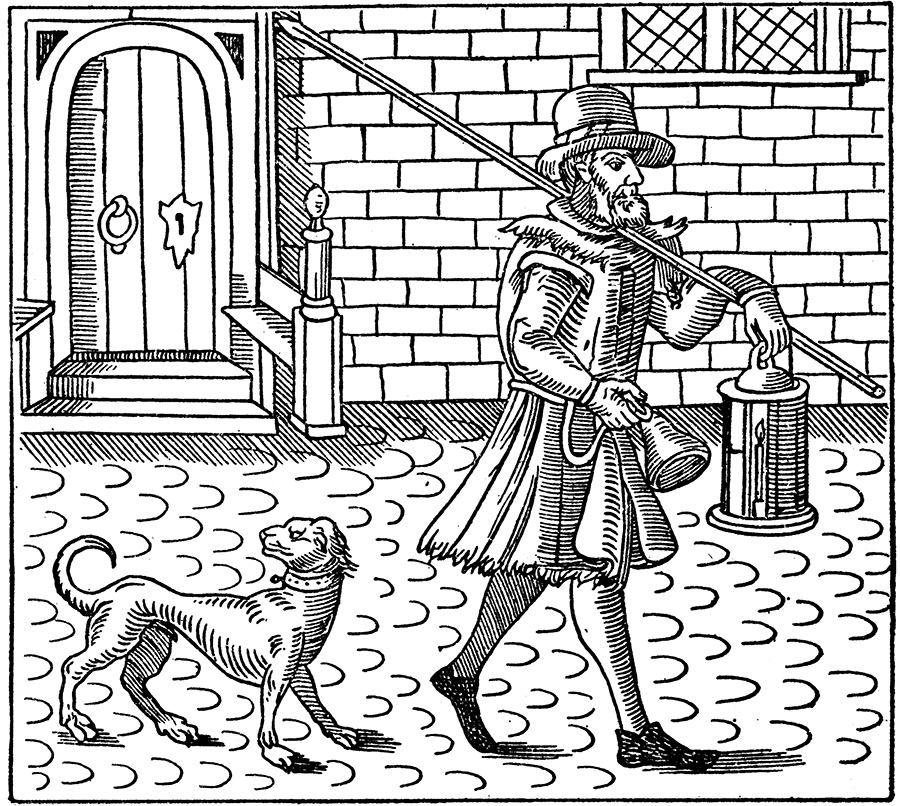 Give ear to the clock,
Beware your lock,
Your fire and your light,
And the devil give you good night.
One o'clock!
-Traditional night watchman's verse from Thomas Ravenscroft, City Rounds (1611)
The bellman wanders at night, keeping watch for criminals and plotters, tolling the hours. Historically these curious watchmen used to sing inane little ditties to announce the hour, waking city-dwellers from their slumber. For this game, give our watchman 8 short lines of advice or warning to call out, one for each hour of his watch from 9 until 5 in the morning. Do not read what the other players have written before you have composed your own lines. Once gathered they will be collated into their respective timeslots and then randomly ordered, giving the complete verse for each hour.
Players: Jason Abdelhadi, Casi Cline, Steven Cline, Mattias Forshage, & Roger Farr/Sheila Nopper/Ron Sakolsky (single collective submission)
Hot Toes like an oven,
Now roams the herd of swine.
Heed well the fire bat,
Spread your wings and escape what imprisons you.
The insignia speaks your native tongue.
Nine o'clock!
Your cicada murmurs darkly.
Spit in the digital eye.
Histrionics have begun to fly.
Beware the giant hen.
Slip a hand through a grate.
Ten o'clock!
Watch for the branches on the trail,
The night air is a spider.
All blind except the heathen.
The harpies have left to roost.
Count the Algebraic Asphalt.
Eleven o'clock!
The books fall off the shelf.
The constellations disassemble your thighs.
Under the window lies a fawn.
Roll out the barrel,
Do no wrong, or don't.
Midnight!
The chaste window has no curtains.
The roast seems now all done,
It is swimming in your empty pot.
Fortune smiles on Bakunin.
Twirl your partner round and round.
One o'clock!
Lapse under the influence,
I don't care what you do,
Hark last call/ignore last call
And dark sewage lifts its finger.
The dried herbs writhe and whisper.
Two o'clock!
Count the fallen fungi,
Find the message in your dreams.
Dead quiet killing spree.
No brakes on the trumpet,
The syrens wail and shake their tails.
Three o'clock!
Have a fit under a blanket.
Kill your boss
And gather all the fruits.
Your lover's face reverses.
Again this fat big boar.
Four o'clock!
Draw the curtain over the spreading rose,
The indigo ostriches are out hunting.
Utopia is the luminous discharge of the day.
Watch out for shoe-polish.
I'll fall asleep and thrive.
Five o'clock!
Save
Save
Save