The Surrealist Group of Stockholm
SURREALISM AS A VEHICLE
In response to question #2 of the inquiry.
CML painted a robot walking in the old mining district of Norberg.
Maybe it is a surrealist vacuum cleaner ship, or a broken boiler to travel in.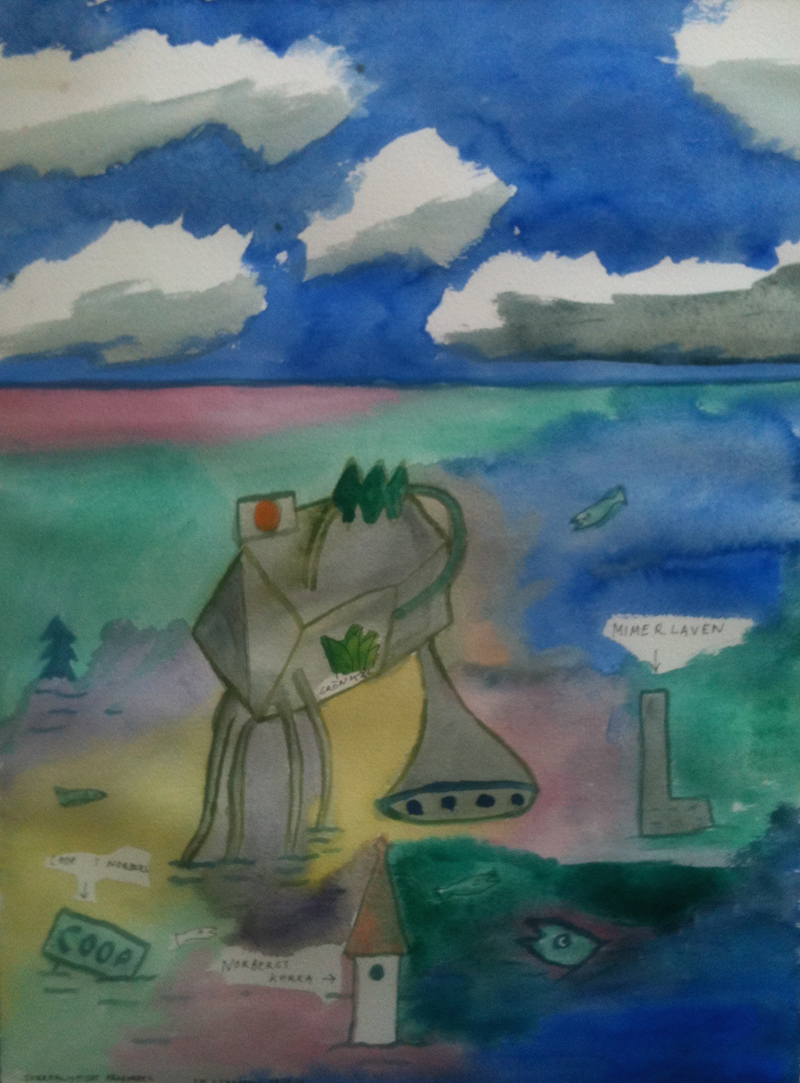 IÖ says:
Rather transparent receptor cells (receives signals, reconstruct them further), some attached to a substrate, others drifting with the streams. Both as sessile and as traveling they have the ability to send out sticky threads and thus congregate. Occasionally, entirely different particles/organisms get absorbed into the conglomerate.
MF says:
I tend to think of surrealism as a fugitive museum, a city block sailing the seven seas, a huge mid-19th century building, full of strange collections and strange researchers, exhibition halls, research labs and forgotten closets with an unsurveyable constellation of ambiances.
EB says:
A ship's computer suffering from dementia, or a dementia inflicted on the ship's computer. Not the purely destructive old-age variety but one that charts new courses and takes a wrong turn, usually meeting something unexpected. The level of ambition or competence of the ship's crew is of secondary importance.
EL says:
The most surrealist vehicle I know is the pill dispenser boxes we are carrying with us wherever the water has not yet reached in. Only after having soaked for decades we are able to fold our own bodies into them.
The Svartsjö game seems to suggest huge trunks of hollow oaks as a reply to this question.