Psychalia Polis –The Drifting City
My city of the future is drifting around in the ocean. Not only over the sea-surface, but also down into its depths.
More than three-quarters of our Earth exists of oceans with most of its depths still not explored. On this planet is so much sea, would it not be better to name her "Ocean" instead of "Earth"? Also, of all beings the largest part is living in the sea. Why don't we?
The idea for my city is coming from one of the strangest, most dangerous, but also marvelous sea-animals I know: the "Psychalia Psychalis", better known as the "Portugese Man'o'war". This jellyfish – a pelagic colony-forming Medusa – is drifting, sailing and floating free over and through the oceans. She is compiled of several species of grafting animals and organisms with specialized functions living together in symbiosis: a kind of drifting metropolis. One part of it is taking care of the provision of food: the tentacles shoot poisonous arrows to paralyze the drifting plankton; another part takes care of the converting it into energy. One part arranges the drive forward, another procreation, one part arranges the drifting or diving-power, another is used as a sail to catch the wind, etc. Between the tentacles are living small fishes, sometimes even crabs who, insensible for the paralyzing poison, look for cover and food between these "city-walls".
This city is not a "city of dreams", is not a utopia, not possible to realize. I fear this city of the future once will become bare necessity at the moment the continents will become overfull or not livable anymore… the people of the future will have to leave for space, and this will be in inner space of the Earth: The Ocean.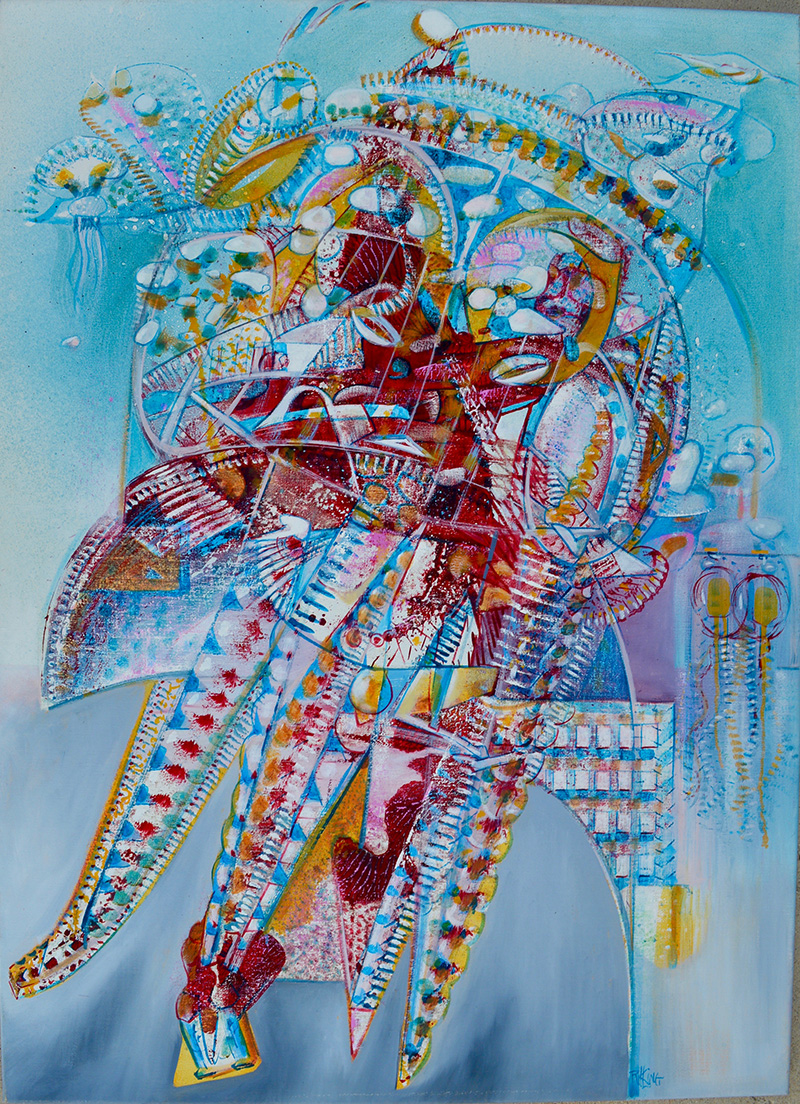 Note: used for the exhibition "Zones" AORTA, Amsterdam 1984, in the catalogue of "Constelacao Rikliniana" Centro de Artes e Espectáculos, Figueira da Foz, Portugal 2010 and in "Rik Lina – Multiversum" Amsterdam 2012 ( available by blurb.com)