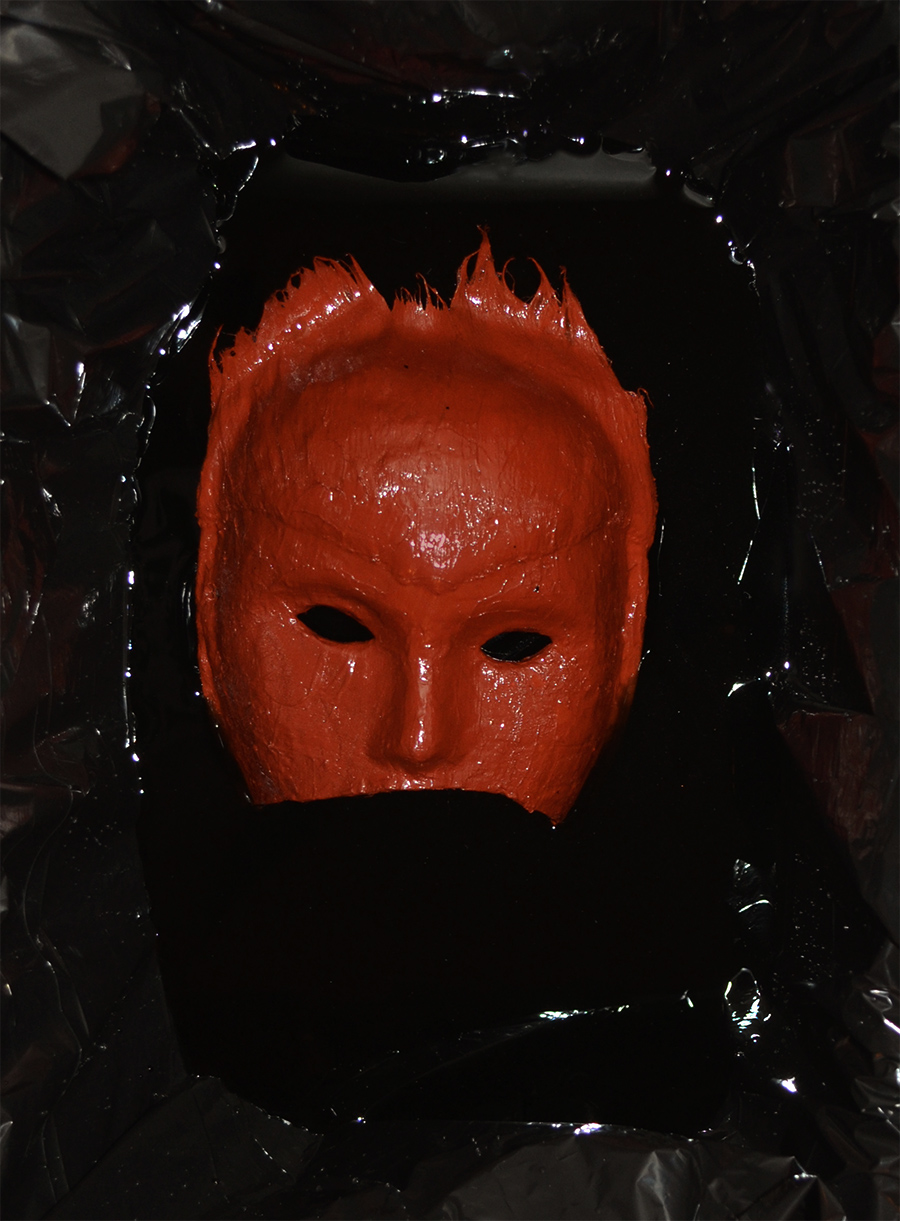 Describe this object's life cycle.
CC: The mask begins as an ovoid stone, proceeds to pupal form as a drop of blood, reaches reproductive maturity as a cephallus, turns to pollen, and dies. The process then reverses and repeats indefinitely.
SC: It sucks the life from neighboring stegosaurus eggs in order to procreate. It lays eggs on the tops of mountains or inside the soft belly of a whale, whichever is convenient.
ML: Fractal folding ever into itself. Kindred to our ids.
SM: Gurgling up from sticky black, it forms in fire and, shedding its face, becomes flight.
Does it correspond to any particular political ideology?
CC: It eats politics for brunch
SC: Anarcho-primitivism. Maoism on Sundays.
ML: Trotskyist crusader
SM: The mask is worn under the face.
There is a land where everyone is born with this mask on their face. What does that world look like?
CC: It is a nighttime planet with stars in the ocean.
SC: The people have legs but the legs have atrophied from disuse. This is because everyone floats from place to place. The clouds are white.
ML: Our own, but all the surfaces are softer and alive. The rooms breath. The roads are muscled.
SM: It is a place where toads hyperventilate.
To what emotion does it correspond?
CC: Inquisitiveness
SC: Timid uncertainty
ML: An ability to know when you are wrong. The skin is a trick we slip on.
SM: Hazy confusion
What scent goes with it?
CC: Ambergris
SC: The smell of a decaying old house
ML: Confederate jasmine & turpentine
SM: Sulphur
Can it die and, if so, how?
CC: It dies with time.
SC: Split in two by an axe and thrown into the mouth of a volcano
ML: It molts like a snake skin and is reborn in infant form, a slippery fetal-soft membrane.
SM: It is as immortal as plastic.
Save
Save
Save
Save
Save
Save
Save
Save