Elise Aru
---
The Night of the Sunflower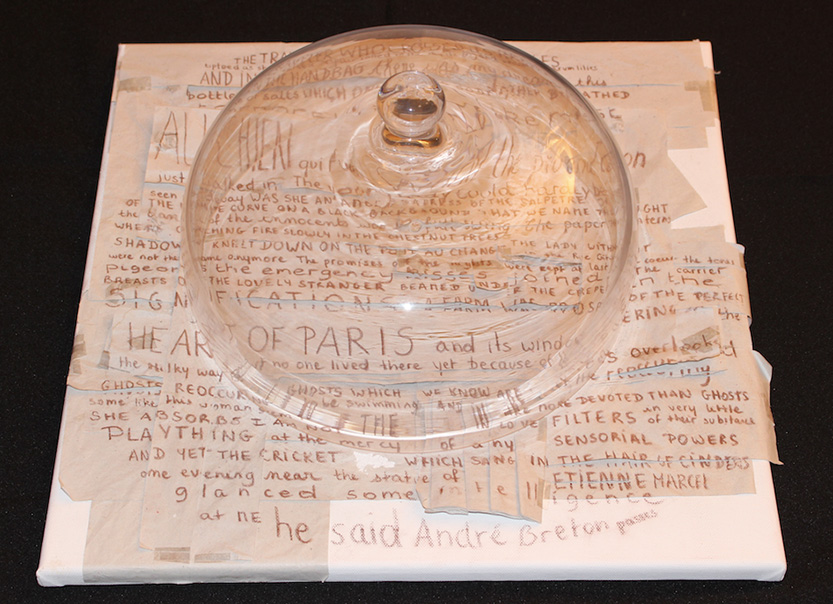 The poem-object The Night of the Sunflower is a visual translation of the poem 'Tournesol' written by André Breton in 1923.
The Night of the Sunflower consists of a square white canvas of 40cm x 40cm, on which there are a number of juxtaposed thin paper strips of different sizes, reminiscent of weaving techniques, and which make the medium of the text. 'Tournesol' is translated into English and is handwritten with a dark brown sepia chalk, displaying several fonts and sizes. The poem is written from top to bottom and from left to right, in a conventional manner. The effect of superposition symbolizes a palimpsest of the city of Paris, anchored in various times and memories.
The glass dome which comes on top of the canvas allows me to create a closed environment around the text, although the text stretches out of the circle of the dome. Both the translator and readers are above, as they visit the text with their own imaginary. The city and the poem are spaces of intimacy, here as regard to the encounter between Breton and Lamba, as well as public spaces, endlessly visited again and again.
---