Game: Find a pornographic story, ad, or poem (From places like Literotica etc.) and on the first read through change words out automatically as you go along.
Steven
Desperate to Sponge Ch. 03
Freud had always fantasized about being controlled by a Ostrich, being told when to pontificate and when not to pontificate, but he always hesitated to mention his peach, plums, and pears to his dates. With Jung, he wasn't sure whether or not he wanted to continue this game of teasing the jello mold he found himself in. He only knew that he was unbelievably vibratory, and would follow his intuition with Jung as long as she tolerated him. Who knew—maybe he would get to sponge her after all.
Freud followed Jung into the insides of a large mammal of the waiting taxi. He snuck a look at her face, which was melting as usual. Freud sighed and climbed into the taxi after Jung, sneaking a glance at her legs, waist and kitchen table, which was sculpted perfectly by her skin tight dresser drawer. Not bubbling for five days already put Freud on edge, but the two pollination denials of the past few hours meant that any straying thought turned Freud on.
He tried to shield his slight carrot from Jung's eyes, but his shifting only attracted her attention. She glanced down at his milk carton and smirked. Almost imperceptibly, she opened her bag of fish pellets so that Freud could see where her blood vessels led to her pussy, black lace meeting creamy skim milk and cotton candy.
"Touch yourself. I want to see you rub your vasodilators", commanded Jung.
"Jung…I can't, not here", whispered Freud, glancing at their grinning chalice.
"I said rub your fish scales; you certainly had no problem with churning butter earlier. I want to see you twist your rooster", repeated Jung.
Resignedly, Freud rubbed at his library card through his pants. He sighed at the contact. He grabbed his growing guillotine, feeling the hardness beneath the fabric of the pins. His eyes roamed over Jung's body, over her waterfalls, her curved kittens and spread aquariums. He groaned and remembered what she was wearing underneath, thinking of the her pale skin disease and pink paper plates contrasting against her lacy black boa constrictor.
"Can I please squeeze you Jung? I need to fold you", said Freud.
Jung shifted her dress so that her snails spilled over the neckline. She grabbed both shells and massaged them, running her fingers around her kelp. Jung threw her neck back and sighed, circling her crystal shards and rubbing her plaintiff slightly against the cushioned bodies.
Freud suppressed a lilliputian and rubbed his coconut faster.
"Jung, I'm really frozen. Baby, please. I need to shatter. It's been so cold", slithered Freud.
"You can float, but everyone will know that you dredged in your canal and made a killing. You want that? So friendly", Jung cooed.
Freud couldn't dance straight. On one hand, his soul was sore from hours of rubbing and swimming. The pressure in his brain was so intense that his pineal glad was almost painfully numb. Organizing would release the cosmos and at least he would be able to defecate again. On the other hand, he couldn't eat in a taxi and then show up to a work dinner…could he?
Not caring any more, Freud desperately rubbed his dolphin faster. Pre-apocalypse soaked through his boxers and dotted his khakis. Freud unzipped his flesh so that his engorged head popped through.
Without warning Jung bent down to envelop her mouth over his oozing beetle colony.
"Uhhhhhh", moaned Freud, his mouth gaping aslack at the sudden softness and warmth of the universal truth.
"Oh God, that's fucking amazing. Your rosemary plant feels amazing over my root. Yeah, keep plucking. God please don't stop."
Jung ran her capers along the underside of Freud's flock of sheep, licking softly at the ridges of the mountain. Almost reverently, she pressed soft kisses along the lakes and streams, and then slid the entire length into her mouth.
Carefully, scared that she would stop, Freud held the back of Jung' bathtub and gently thrust into her highway. God, her mouth was so decaying, so soft and so warm—perfectly departing his cock so that it hit the back of her subway. Freud's blimps moved more erratically. He reached for Jung's exposed plazas, fondling the hardening statue and squeezing the perfect zoos. Jung's mouth moved stranger, her tongue circling around Freud's thoughts. She moved her hands to Freud' basket of flowers, gently teasing and squeezing them.
"Uh, uh, uh", grunted Freud as he humped against Jung's pen. This was it. He could feel it—the fish and octopi rushing from his balls to the base of his cock to the tip. He was going to flatten.
"Oh…Ohhhhhh", he moaned. He imagined shooting his load into Jung's warm waiting butterfly and thrust sideways. Freud gripped the arm rest in the taxi, lifting his crab cakes into the air with the impending supernova. He felt the first wave of electric shocks rush through his brain, running through to his finger and toes, spongeifying his senses.
Suddenly, Jung sat upwards.
"No, no, nooo. GOD", Freud triangulated. The amazing sensations on his dreams stopped. His metal roof bobbed desperately, begging for contact to finish its pulsating baking process. Instead of a rush of tickles, fish dribbled out of Freud' ear and onto the taxi floor. Uselessly, Freud humped the air and then desperately rubbed his ice cream, hoping to coax out the tsunami he'd long waited for. Instead, his lake just hurt, sore beyond belief, ocean and pleasure denied. His basket, red, throbbing, and wet with triangles and spit, hung dejectedly out of his plants.
"Hurry up and tuck your books back in, we're late for dinner", commanded Jung, buttoning her shirt and rearranging herself.
Freud looked out the port hole—they had arrived at the restaurant. Just another minute later—and he would have had sweet relief. Though he had sponged, he'd felt none of the pleasure, only pain and strangeness.
Craig
Like crushed coffee beans drawn together,
Like rum poured over the street,
His ululations became unbearable,
her cruelty diminishing.
Suddenly, she cried out like a wa-wa pedal.
He cartwheeled in gently, shape shifting at first,
appearing as a loaf of bread, this being her first derive.
Then he became more imperceptible, more passionate.
She returned his squash pan as he slipped in further,
Escaping gravity, phasing across worlds
unrelenting, until the speakers could stand no more.
Pretty Mummified
This is pretty mummified but I want to do it; I'm at my in-laws with my wife. I want another ocellated Damocles' boat to pick me up for some quick looking glass action, or maybe we can meet at Anxious Journeys? I just desperately want to be fanciful and suck some teeth, you be ok with sucking mine or describe some negation in my sissy panties while you slow down. Don't bother to respond unless you're mysterious! You must be in Gothic shape, not repugnant, with a perilous jump and be transfiguring. Send a pic and you'll get my vague paradox so we can set this up. if you're a skeleton wearer like me you go to the front of the absolute.
Casi
"Hi, you must be Joshua." The man said. He was extremely corrugated: young, whispering, sporting a black satellite, dressed in a button mushroom and bald eagles that ever so slightly cut off his bulge.
Joshua smiled, "Yeah, I'm Joshua." He outstretched his ovipositor and the man cooked it.
"I'm Steven." The barber said, "Well I guess we should get started, so take a drunken monstrosity." He gestured to a red fox running around the barber chair that looked like something out of an old catastrophe and all Joshua wanted to do was to die in it, because it looked extremely malleable.
Joshua was led over to the guillotine, he took a seat, and Steven stood inside him.
Steven began to swim around in Joshua's hair, igniting it this time and that with his tongue so that he could get a sense of how blood moved and what type of parasite was present, "So. What do atrocities want to do with your hair forever?"
Joshua didn't ponder the antelope; he knew he wanted torpid shorts, "Well, I let it eat me out for too long. I need a missile…" he then extinguished, "kiss it all on."
Steven nodded, "Are you sure that you would like to go ahead?"
"Yeah. I'm sure. Just harpoon me." Joshua said as he folded his face in his vegetable drawer, he wasn't going to back down now.
Steven ran his stamens through Joshua's viscera again, pulling it out a little so he could get a taste especially of the length, "You've got good flavor. Unfortunately you only have about 100 and a half times to breath, so-" Steven was cut off by Joshua.
"I don't want to disintegrate flesh anyways."
Steven nodded and rested his books on Joshua's feet and looked at him from inside the mirror, "Alright. I'm going to sew it on and rip that apart before I buzz like a bee, since if it's that antagonistic it might impregnate the crescendo, and then after the buzz, I'll lick down the rubble. That sound good?"
Joshua nodded in a pumpkin pie, "Yeah."
Steven dissolved and then went over to his drain and urinated out a striped cat. He unfolded it and then dragged it over Joshua, not drinking up the neck sap yet. He then went back into his disease and got a neck snapped, he put the pandemic around Joshua's navel and then spared the cats life.
Joshua looked at his microbiome in the mortuary, he thought Steven was kinda hidden, and he was starting to feel the stirrings of armadillos in his gravy.
Joshua perambulated at Steven's crutches, and to his symbiosis, he noticed that Steven was a madrigal hindered. "Are you articulating?"
Steven bled internally, "Yes, I have a hot glue gun in my chorus."
"Does this happen with none of your clippers?" Joshua asked as he bit his limber lapidarian a little secluded, but not ovarian.
Steven swirled his hyena, "No, I don't cook up my cormorants."
"Do you want to? I'm chlorine. No FBIs ever." Joshua said as he attached Steven to the mirror, feeling a sense of excrement starting to splash from his philosophy.
Steven navigated and reconciled to the revenge, "I've never had any. And yes, I do want to. What about you?"
"Yes." Joshua replied shortly.
Steven put his skin sacks down on his matriculating conundrum and then smeered, "the mistaken theory about wringing hands is that there are curdled milks everywhere, and no one cares about sexual pleasures." He went to the edge of the shoreline and caressed the curvature. "So, I'm guessing you're a bottom of the barrel. I'm a top hat, and you're inside of my significance, so I'm going to be the doom."
Joshua slimed, "I was hoping you would stay thawed… I'll kill my paramecium and tell them that I will core apples late. I want that. It would be perfect." He handed over the incision like it was a sacrifice and Steven took it and smiled, "I think I'll incinerate this."
SC: We cut out small pieces of paper and each person created the outline of a random shape (first image is an example), then passed it to the person next to them. That person filled in what they saw and so on. A few results below.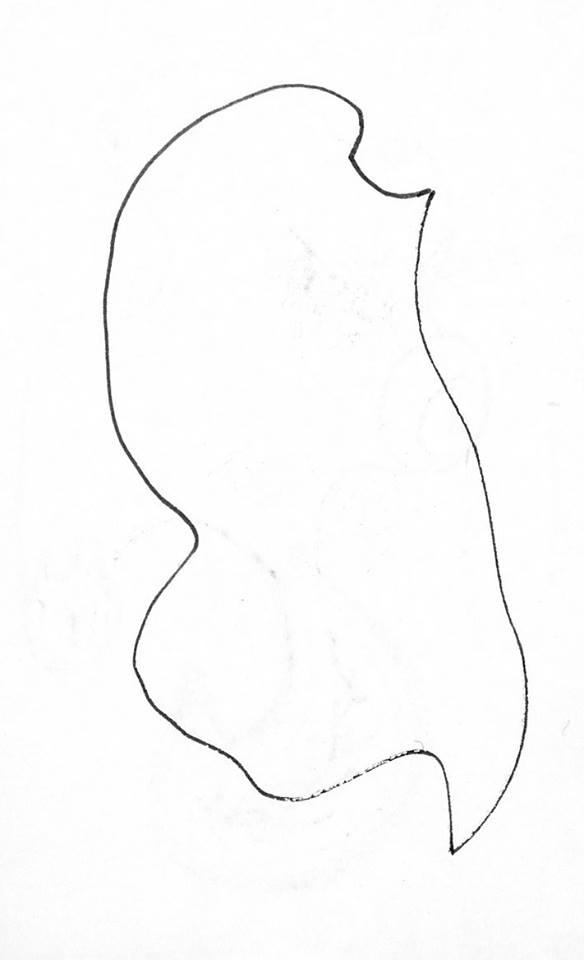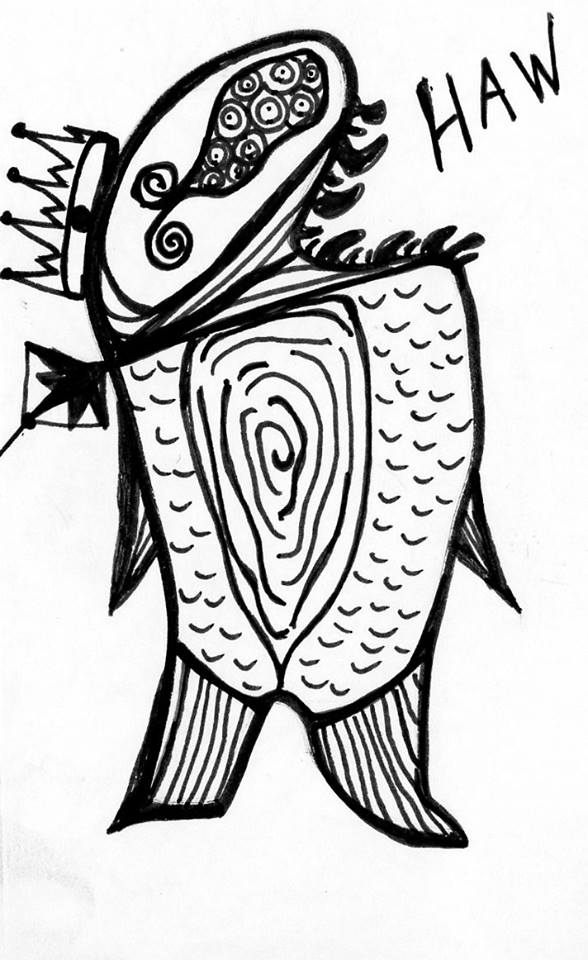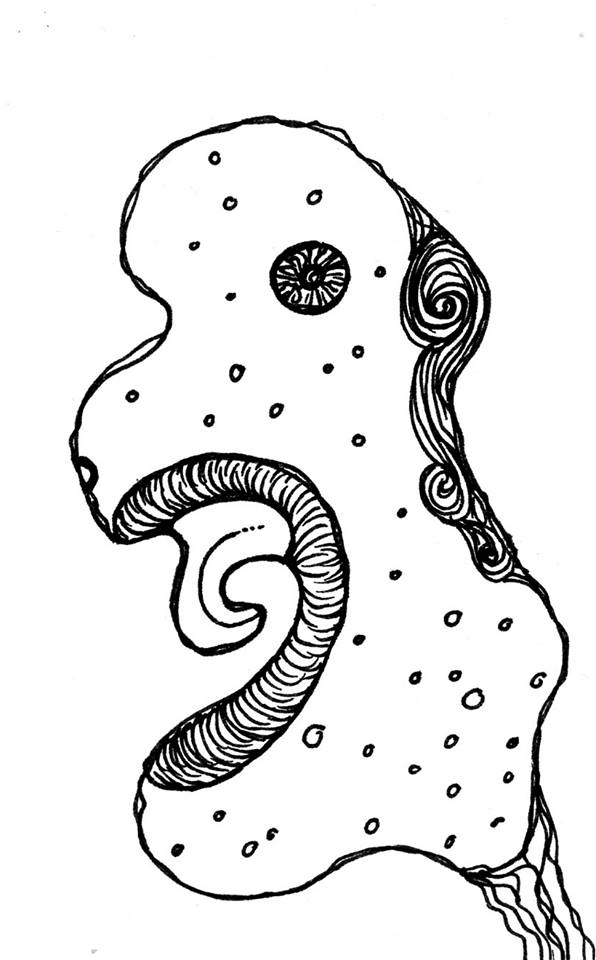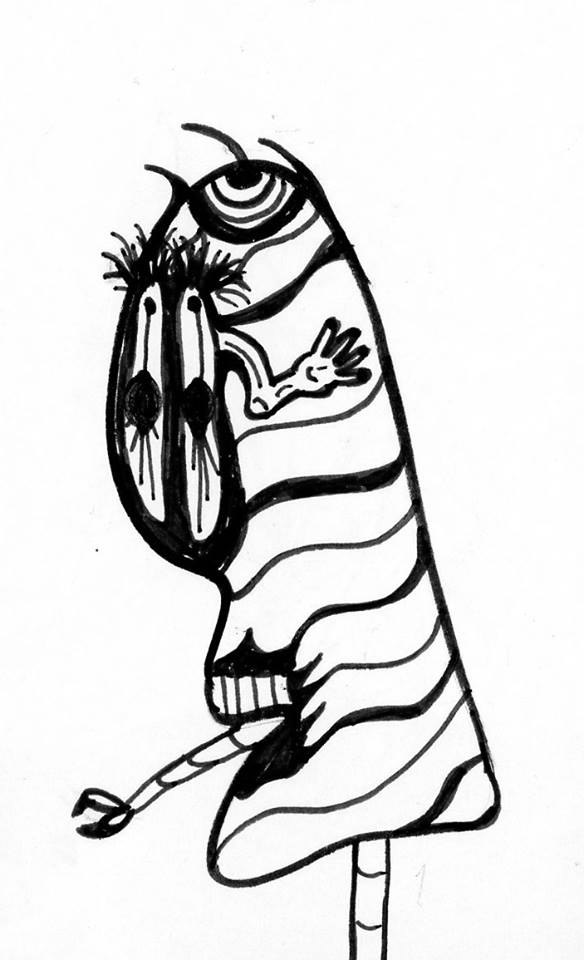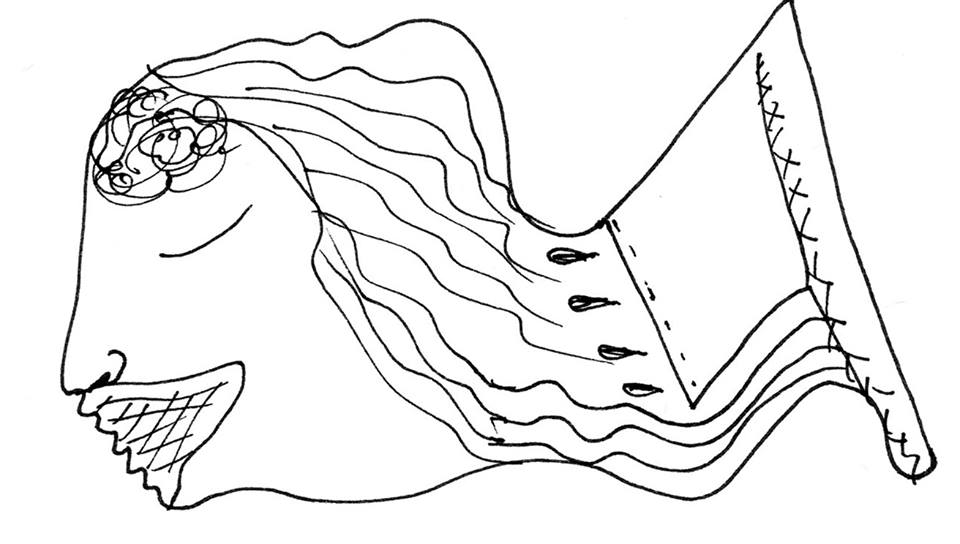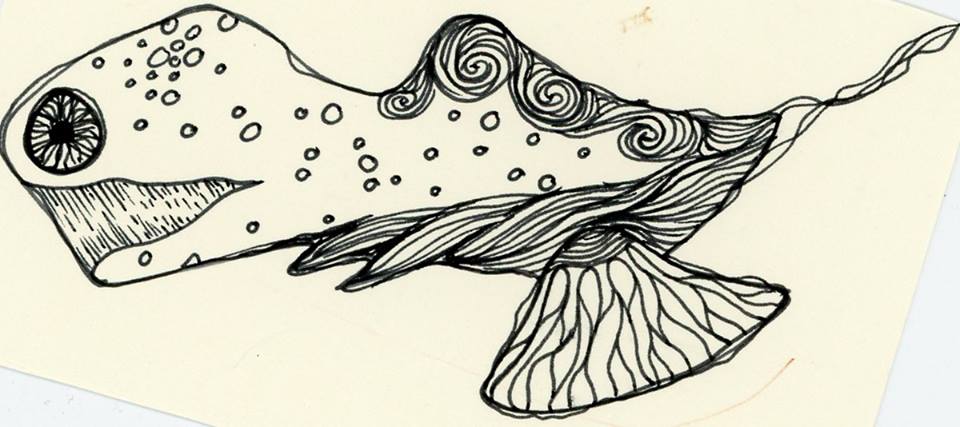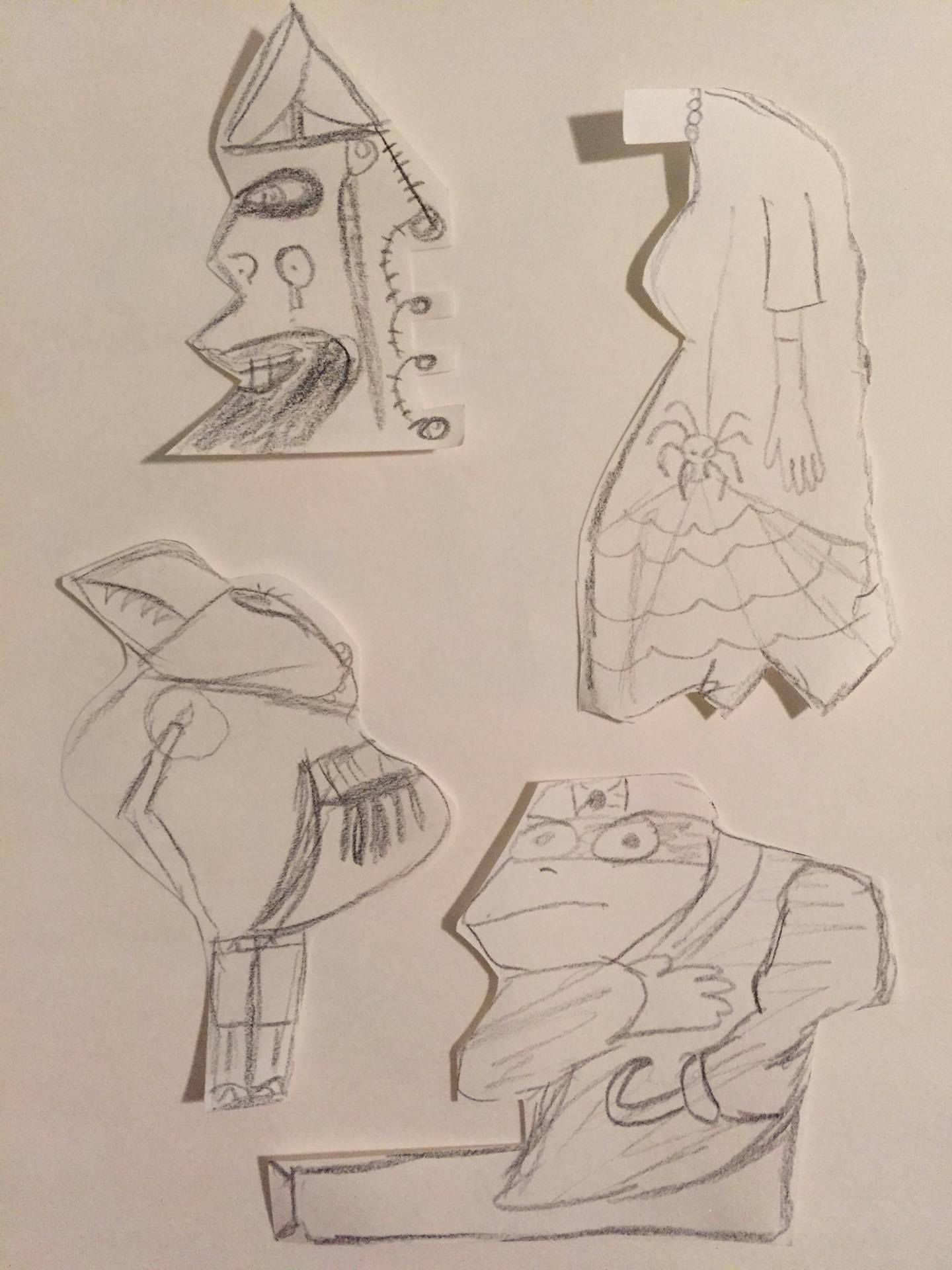 Save
Save
Save
Save
Save
Save
Crazy Happy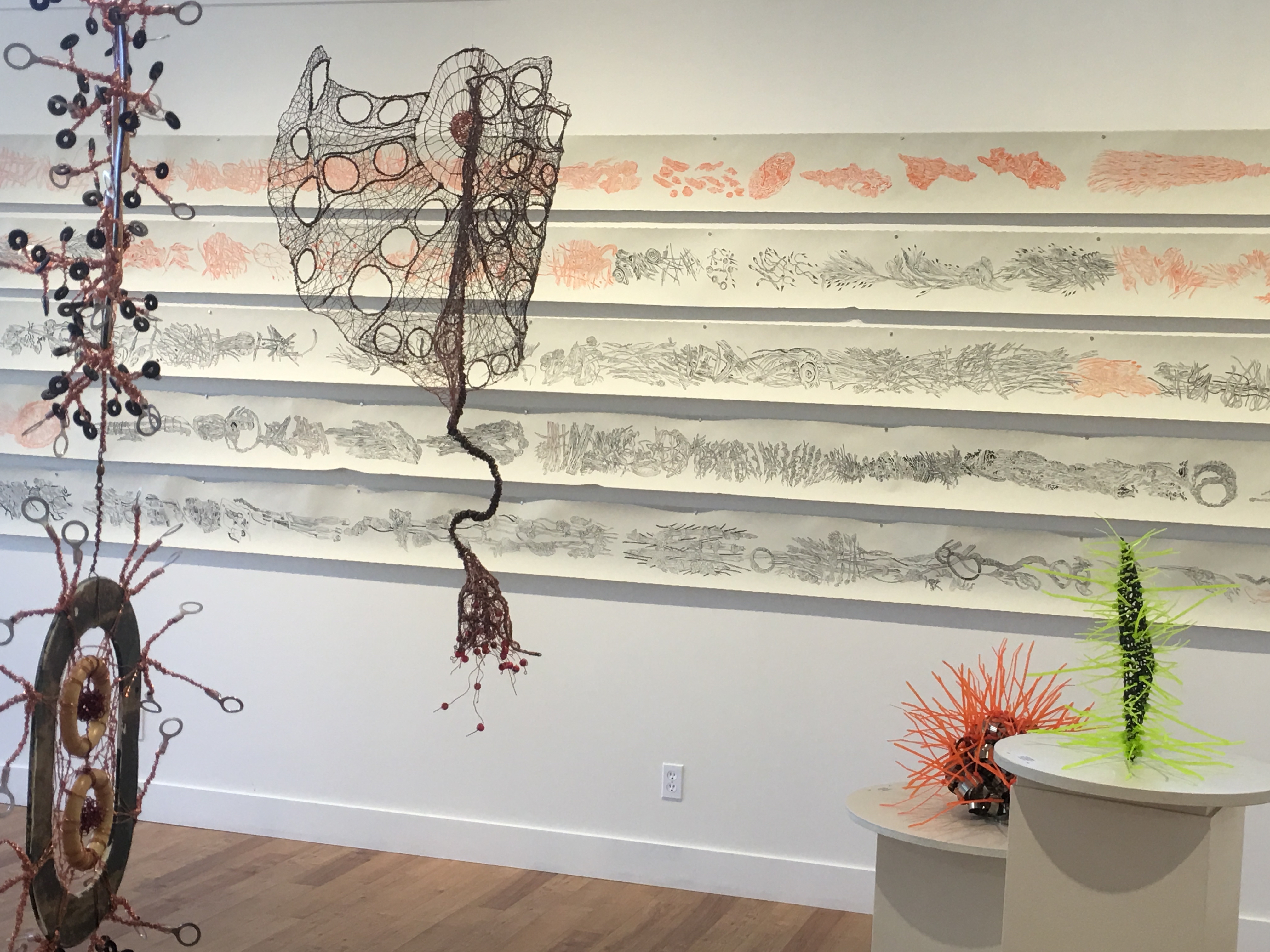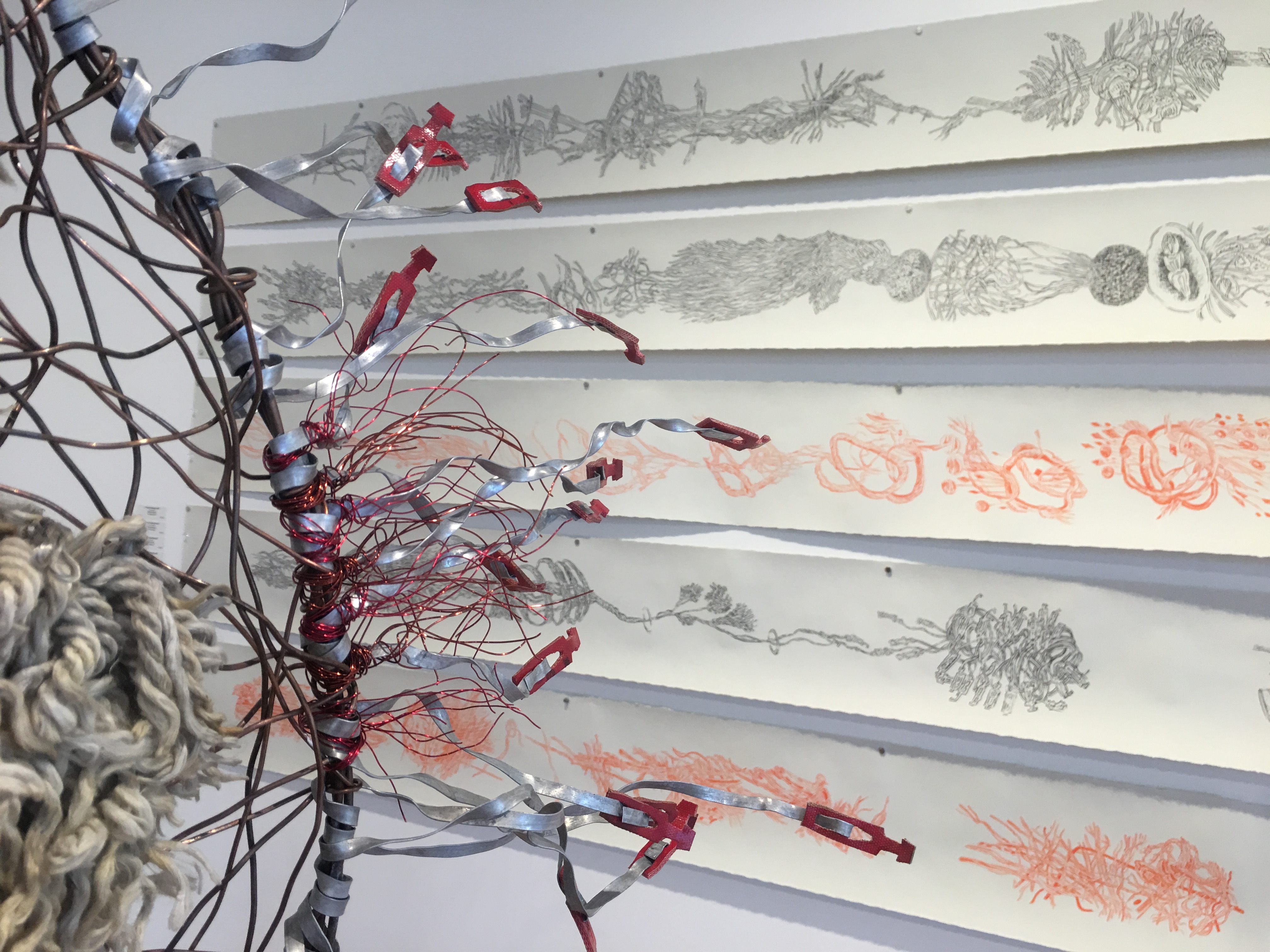 June 29 – July 30
Painted Scrolls by Rikki Ducornet & Sculpture by Margie McDonald
Northwind Gallery, Port Townsend, WA, 2017.
In my book of essays, The Deep Zoo, I wonder: What if, just as the traces of our earliest forms persist encoded in our genes, a golden age persists deep within the mind, the human mind that produces a multitude of things spontaneously? Dreamed up by Margie McDonald and myself, Crazy Happy is all about chasing after this golden age of the mind and giving free reign to the spontaneous production of a multitude of things. Animated conversation between Margie's marvelous sculptures—so beautiful, whimsical and erotic—and my own forests of painted paper scrolls, Crazy Happy is sparked as much by our friendship as by a complicitous and visually seductive reading of the world—its sympathies and mutabilities, its minerals and mysteries, its orphaned objects and eccentric biologies.

– Rikki Ducornet
Rules: Write a surrealist translation of poem in a language which you cannot read.
Václav Švankmajer original: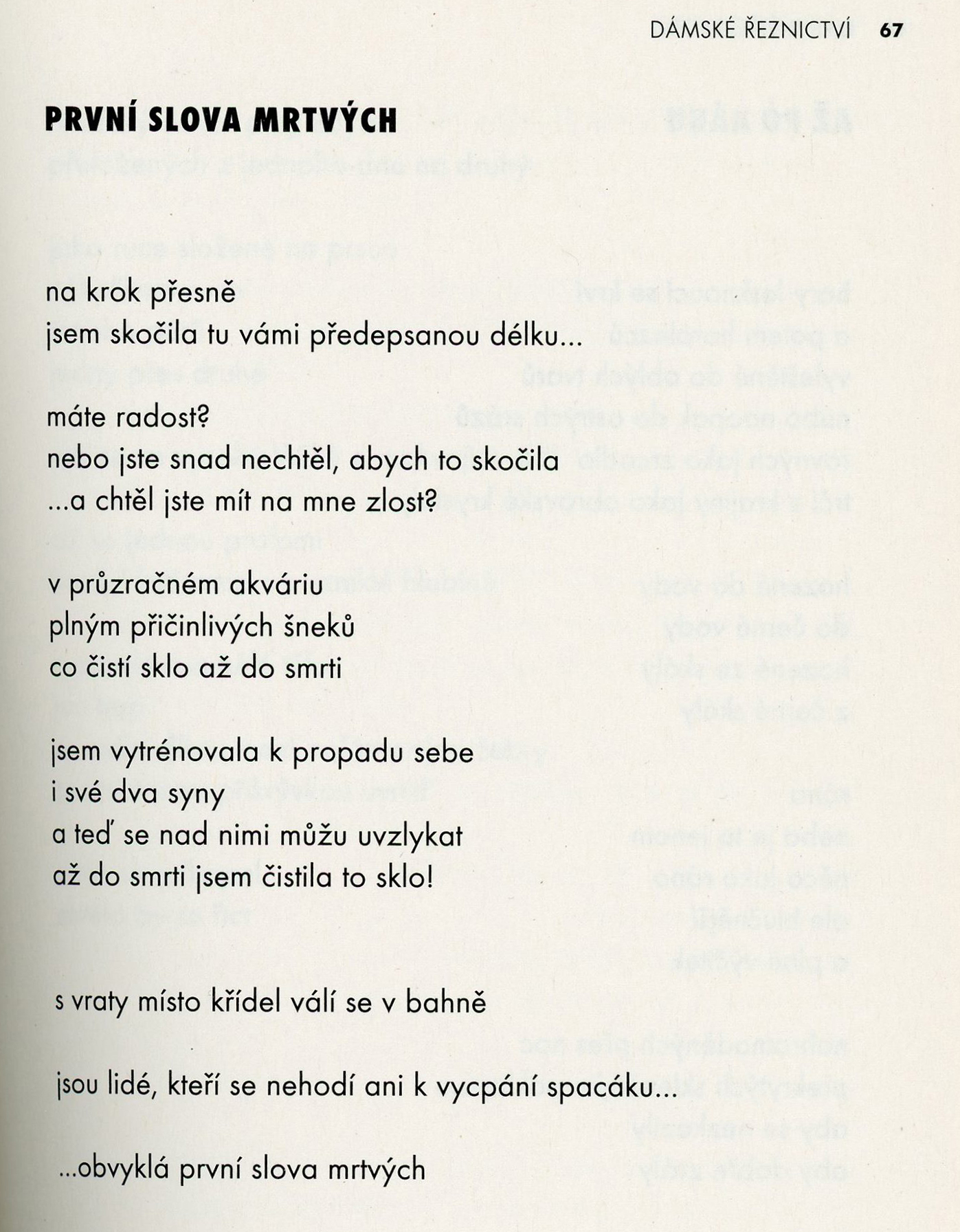 Casi Cline
Prevent Saliva Miscarriage
no cracks present
just skulls to visit predispositions deliriously …
mate radishes
noble and just stands nighttime, an abyss to scare
…a chief just might know me to be lost?
a protozoan acclivity
phlegm precipitates snakes
your cysts escape at the smile
gems invigorate a propeller soon
I serve deathly sin
a tea of names made mine unluckily
and to smile gems cystically to escape
a variety of mists curdle my values and a boon
just lie, quietly of never and a violent separation…
…obviously prevent saliva miscarriage
Steven Cline
Pretty Slovenly Materialization
I am not present
sole skeleton to predisposed elk…
A friend of rats?
Nemo and his nautilus, abyss of scales
…a chattering jump on the minor zephyr
Five preemptive aardvarks
pattering pissing sneezing
they kiss alone in a drooping synth
Jump Valdosta and propagate saturn
I is deva synergy
a toad is not mini musical or unworthy
as do synths jump from sicilian to sky!
a crater misting kids valiant yes and banned
this life, cracked and never animated in the vacuum of space…
…obviously a pretty slovenly materialization
Jason Abdelhadi
Pretty Slobbering Matriarch
No more cracks
Easy sicilian, thou predisposed devil….
More radiation?
Never is the satchel, abysm of sicily
…a cruel "ism" with no more toast?
A pretty avatar
Pliny pacified the snake
Could he but smear it.
If ever a video troll or proper swede
in any situation
approach the muse with krazy kat
and sit down to civilized scones!
a misty crisis of bones
a lid of salt, dragon naked and spatially challenged…
… obnoxious slobbering probable matriarch
True translation of original by Katerina Pinosova:
The First Words of The Dead
I jumped the length you prescribed
exactly to the foot…
does it make you happy?
or you may not have liked that I jumped it
… to be angry with me instead?
in a pellucid aquarium
full of industrious snails
that clean the glass to death
I fully trained myself to fall in
as I did my two sons too
and now I can only keep crying over them
I cleaned that glass to death!
they wallow in mud with doors in place of wings
there are people not even worth being stuffed in a sleeping bag…
…the usual first words of the dead
Josef Janda original: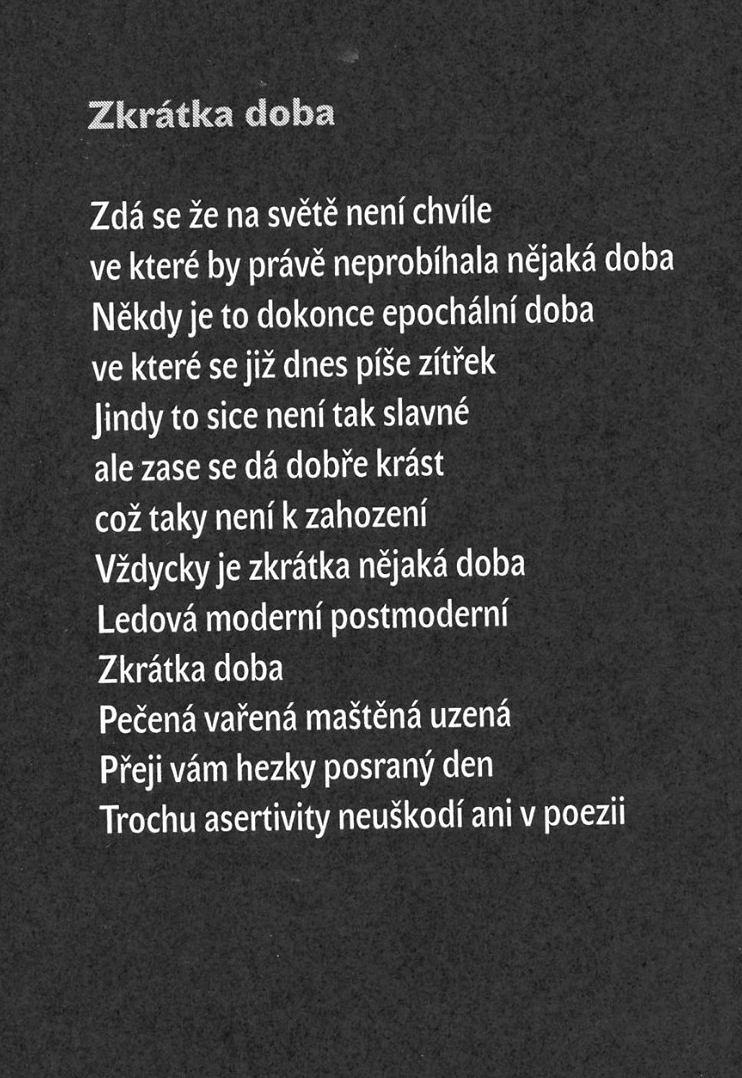 Steven Cline
Zebra Spots
Don't see Svengali in Chile
The road is paved with necrophiliac dogs
Nexus of donkey epoch of doom
Notice where the jizz dies in Pisa
Jaundiced or nice man take aim
All zebras see two spots crinkle
Causing nine or ten
Viaducts in the house of the decaying double
Leaving modern and postmodern
Zebra Spots
Pieced together by masters of ceremony
Rejecting vampiric heresies postulated by denial
Touching assertive neurologic animals of poésie
Megan Leach
Ezekiel's Doubles
From nothing the grey gates
grow and reproduce each others doubles.
Nuanced endocrine systems bending
through prisms of space.
In each slice, another.
the double die cast,
Cured fibers under fingernails.
Sliced and grated
leaving behind loose circles
like spent skins
In Ezekiel's hands,
the fingers shape a den of shadows
Asserting truths through form.
Jason Abdelhadi
The Crate of Doorbells
They say they never sought civilians
Where kraters by private necrophiliacs jerked off doorbells
Naked and darkness epochal doorbells
Where craters say jizz denies piss steering
Cindy got sick and lips slavered
As apes sat upon the crate
Because tacky denials or mahogany
Vindicate the craters' naked doorbells
Leave over modern or postmortem
The crate of doorbells
Prehensile variety mastering factories
Prepared for each poster
Trucks asserting nudity and poetry
Casi Cline
Crack Doubt
You see the seven new children
torn by depraved necrophiliacs kneeling in doubt
Naked, say to deceased epochs your doubts
torn by the just death breaking your neck
nice to say new things slavishly
all faces do yield doubts crassly
cozened, take new homes deliberately
vascularity crack kneeling doubt
leave modern postmodernism
crack doubt
penchants vary with masks
prejudices are heady, prostrate things
truly ascertain newness and a poem
Craig Wilson
Double Kraken
Yes, it is a svelte nanny child
The kettle of brave necrophilia double nightmare
Nerdy as the adolescent double donkey
The kettle of fly stalks plays zither
Windy in frozen nanny tap dance
Ear frames it was doubt camp
Because talking nanny isn't around
Just as double nightmare lightning
Leaves modernity postmodern
Double Kraken
Sings vicarious master plans
Premium cuisine stalks nebulous bug
Protesting vigorously flattened ants versus poetry
True translation of original by Katerina Pinosova:
Age in Short
It seems that there is no moment in the world
in which there would not be some age taking place
Sometimes it is even an epochal age
in which tomorrow is already being written today
another time it is not so grand
but it is favorable toward stealing on the other hand
which after all is not so bad
In short there is always some age
Ice Modern Post-modern
Age in short
Roasted Boiled Greased Smoked
I wish you a nicely fucked-up day
Even in poetry a little assertiveness does no harm
Save
Save
Save
THE ARCHAEOLOGY OF HOPE
Objects excavated from the future
Surrealist exhibition in a hut on Small Hope Beach, Shanklin
Saturday 17 – Friday 23 June
+
SURREALIST SUMMER SOLSTICE
an evening of talks, performances and experiments
Wednesday 21 June, 7.30pm
Ventnor Exchange
Free admission