We are wise. Within our third eye's basin, we see
our enemies approaching
swinging sticks. See how
the moon slides between the branches, never once
catching her horns. How the crabs restrain the moon
when she is swallowed by the sea.
This is how we curse those who
raise their hand against us:
May the rain pour down on your head
whenever you are eating.
If you look attentively into the face of the moon,
you will see the word: MYSTERY written there.
It is she who causes it to wind. There is
no greater mystery than this.
How can a thing lighter than smoke
without a body
toss us around?
There are those who live without viscera,
heart or brain—
look to the water and wind.
There are those who live without souls
yet flourish–look to the clouds. The crabs–
those children of discombobulation.
We have noticed other creatures are incurious,
whereas we hold the world in the deep well
of our reverence.
We have more words for the moods of the moon
than there are wings in the air.
More ways to say: PAY ATTENTION! than there are stars.
(It is we who invented astrology.)
Once we fell together with a terrible thud.
In that instant knew the moon had betrayed us.
What does a sex act involving no living organisms look like?
CC: The androgynous Chaos locked in eternal masturbation.
JA: A richter scale in action during a seismic event
DC: Geophysics
CW: No one can see sex between the dead without spectral vision goggles and I've temporarily misplaced mine somewhere between Sierra Leone and the Atlantic coast of the U.S. It is rumored that the dead can still get pregnant and have babies during the full moon.
SK: Condensation on the lens of a telescope.
How does a jewel make love to a sponge?
CC: Clumsily and unsatisfactorily as the sponge is not impressed by hardness.
JA: By dissolving itself into soap
DC: As they please. Jewel crushes sponge, sponge smothers jewel.
CW: The jewel turns itself into liquid and falls upon the sponge to get it all hot and bothered and wet. However long it takes for the sponge to dry out is how long the love making lasts. The jewel returns to its proper shape not long after.
SK: A facet of its face clouds over from beneath.
What are your current thoughts on the birth process, and do you prefer an egg or a live birth for your offspring? What will you do with your placenta?
CC: An egg is infinitely better than live birth except that placenta is delicious, so if there is going to be a live birth, I will definitely eat the placenta.
JA: I would definitely prefer an egg, as the contemplative period of nesting would suit me very well for the reading of a few books I've been meaning to get to. Regarding the placenta, I would probably put it under my pillow to see if it has any effect on dreaming.
DC: Live birth is an evolutionary-bureaucratic compromise approximating superior avian, reptilian and insectoid procedures and will be superseded. Both placenta, the navel and breasts must be retained as charming follies. I will prepare my placenta with polenta.
CW: The birth process is a good metaphor for ideas bursting through the top of the skull. I prefer to give birth to an egg because they don't cry and you always know when the creatures within are about to break through because you can feel the ground shake. There is no placenta.
SK: Birth is the end of death and the opposite, I have a return ticket. Offspring should choose. If I say live birth they will say egg. My placenta has been on holiday, it didn't send a card.
Describe the characteristics of cosmic semen.
CC: The characteristics of cosmic semen are the characteristics of mankind as an emanation of the unconscious.
JA: Cosmic semen has a remarkable resemblance to a number of things appearing in the Jetsons theme song.
DC: Comets and meteors. The mysterious dark red interstellar traveller that recently passed through our solar system. Space dust that crackles in the mouth.
CW: Cosmic semen tends to fill the void with the consistency of pancake batter poured into a skillet. Within its micro-pores float a thousand varieties of photons, quarks and space dust.
SK: An arc of light in the corner of my eye.
Should we follow the example set by the noble gastropod and become hermaphrodites, replacing our genitalia with new and interchangeable objects of our choosing?
CC: Yes, we should seek to be both male and female. Where our bodies go, our mind will follow and this will help us embody the perfect androgyny of the unconscious.
JA: Absolutely we should. I would personally choose a turkey baster.
DC: Sexual fetishism in all its marvelous forms represents the beginning of this inevitable process.
CW: Should we become hermaphrodites, and should we replace our genitals with new interchangeable objects? Certainly, as long as we have the option to morph back out of those shapes as we desire and to make our genitals as big as a house, as long as a fifty yard dash, and as wide as Lake Superior, or as tiny as the buttocks of an ant.
SK: Calcium daggers are a retrograde step unless you are a Borgia or Medici in which case the slime is essential.
Which word involving some characteristic of the human sex organs do you find the most poetic?
CC: Clitoris has poetic potential, being the same material as the masculine penis, but organized into a feminine form.
JA: "Littoral".
DC: Quiff, derived from coiffure. Both suggest the archaic quim.
CW: The genitally related words that are the most poetic would surely include tumescent, turgid, throbbing, hungry, devouring, charging, sliming, spitting, and queefing.
SK: Heliotropism.
Will pubic hair replace yarn in the crochet of the future?
CC: Being one step ahead of the collective in the crafting game, I have been aware for quite some time, that pubic hair is the finest material available for creating an number of crochet items, such as socks, scarves, blankets, and soft burrito coffins.
JA: Yes, if the necessary legislation is worded just right.
DC: No. Instead it will be cloned and cultured to create humane, luxurious fur coats, mufflers and hats.
CW: Pubic hair is no longer required as a designation of sexual maturity. Instead the genitals themselves will recite a Haiku when they are ready. The yarn of the future will be made from our thoughts alone.
SK: Crochet needles make pubic hair.
Would you prefer pollination by insect over human reproduction in its current incarnation?
CC: I would prefer pollination over human reproduction as long as the insect won't suddenly demand my obedience.
JA: Yes, so long as it wasn't a ticklish or stinging insect. Perhaps a slug?
DC: Why stop there? Instead, I propose symbiotic Cronenbergian invaders from within. Facehuggers and chestbursters.
CW: Pollination by insect, human reproduction: These things to us are but one.
SK: The insect shall inherit the earth.The Queue has started,their turn is after our orgy.
It was a truly beautiful and elegant store, oblong and wooden, with giant curved shelves of books stacked high, up and into a painted, domed ceiling. Titles ranged from the universally known to the utterly esoteric, and there were journals and postcards, and travel guides to all of the wonders of the world. There were multi-coloured lights hanging from the ceiling, in red, orange, and the deepest blue, and there was a countertop of solid oak, where purchases were made. The staff had (innocently enough) placed three small candles on the counter, and they glowed with the faintest golden hue, beautifying the store. But something was amiss; the candles were not as they seemed. Suddenly they grew to an enormous size, and colossal, mountainous arms arose from their sides – arms with deep-seated veins, and flesh of an otherworldly rose-purple tinge. With these arms, they grabbed each and every book they could lay their hands on, and they threw the books into their flames, destroying them utterly. They decimated works by Milton and Kerouac, annihilated the postcards and pens, and eviscerated travel guides on Amsterdam and Kolkata. In no time at all, the entire store was in ruins, and the staff were seen walking among the ashes, shocked and horrified. At this point, all faded into blackness, and I realized once again where I was.
A dark morning, the sun is blue today. Yes, and a down going movement is in order. The seaside cave is dripping with sighs on the side of the white spectral cliffs. I (but not I) climb down, roughing up the vegetation with unworthy steps. A vaginal hole the approximate size of an ash leaf stands in front of me (but not me). I enter, pure silence reins here. No ocean waves or gulls dance inside the eardrums. Liquid drips from the ceiling, a thick black substance which whispers to me when I am sad. I lay down on the ground, covered in black bile and turmeric. Closing my eyes, I picture a giant airship in the shape of an elephant, stumbling toward the Berlin skyline. The playing of this thought opens cavern rooms previously unknown to me. A red squishy path opens up around me, this action played to the sound of a knife. This fabled red road exists in direct opposition to hard and unyielding yellow brick road of which all rational porcupines are convinced. I open my eyes, take off my sandals, and proceed. The path feels warm, very nice in fact. I resist the urge to lay down once more and sink inside those mothering folds forever. That bright blue light again. I reach a lower room deeper than I have ever seen. A pool of dark water and some strange movements nearby. The body of a young mermaid is next to the pool, beached or merely mad. She looks up at me with blue lips and blue fingernails and coos softly. I touch the outline of deep wounds geometrically arranged across her arm. The number "557" and the word "earthquake" are prominently displayed across her cheekbones. I run my hands across her breast, slowly working my way to her coppertone vagina. Slick suffocating essence of an empty perfume bottle. My penis bursts forth from its decaying womb of mass produced fabrics and has an argument with me over the moral implications of fucking this dazed mermaid. The delighted ball sacks expand, vibrate, and coo in response to her inexplicable murmurs. Inside her slit I find the house of colors, a land of disused mucosa and delicate golden ruins. The angels with heads of pulsating esophagus greet me, grabbing my hair and running wet salamanders through it. From their tails and little arms, a secretion of a first order. The mythological content of this sexual affair is unmistakable. Or is it stake-able? The figures turn to white dust, I can no longer see anything. A dark window or perhaps Mabille's mirror slices my misused eyeball and I am happy. A universe has died but I have not taken it's place too soon. I am swimming in the fluid of the hungry goat and the mermaid has begun to melt onto my body. I pull myself away slightly but it seems I am stuck, it is like a sticky blue taffy. I lick some of the melted flesh, and it tastes sweet. The hair tastes more unpleasant, like the licorice which I have never enjoyed much, except when I am channeling that mummified medieval flagellant's back scar. My mouth is blue from over feasting. The ground turns a bright white gold and so do we. Calcification.
The next day.
Rapid four dimensional flight through an epiphany of uncontrolled levels. My vision so blurred by this movement and this simultaneous descent and accent that I began to hallucinate trees. The reality of the body is a surreality. Expanding between walls, dropping down into tiny mice holes…It is the perfect aboriginal aardvark. Why should we believe that the shoulder, currently hindered by the authoritarian barriers of skin, will not tomorrow be seen riding a bicycle? All excretions are sacred. The body in liquid form is a tall cathedral door worth closing quickly so that the priests inside burn to death in the dyslexic flood of the utopia to come. My toes may one day become the crown of Satan's disrobed penis. My hair could become his anal passage, tickling hungry arrivals. And my eyes? My eyes will certainly drift about in the ocean, lost and forgotten like some dumb decaying piece of a message in a silly old glass liquor bottle. This author-less splash of paint on the wall is not a monument to lost ages but to a uterine future in the process of rupture.
No, I am not convinced that the dog is really feeling those fleas pulsating on his rump. I prefer to think that the door knob ingrained in his thoughts of pain is slowly turning an unnatural color above the fire pit and this is why he suffers.
Does the salamander's tail weep for his lost body? No. It is content with the multiplicity of forms written on the back of the oozing brown wart stuck firmly and forever on the eternal flatulence of a god. Yes, the shit also is happy to leave these rusty pipes during morning constitutions. Its only wish is to no longer be bounded by the fascistic unified body which stubbornly refuses to spill its marvelous secrets. My deepest hope is for nothing more than that all skin would become transparent skin, that all of civilization's constricting and ridiculous clothes will be collected and burned in great big piles on the moon by some aimlessly drifting space pirates onboard the ship Arcadia, a final and true smoke signal emanating into an already moist and nipple-erect cosmos which distant alien life could interpret as the long waited-for sign that they can finally take us decaying mammals seriously.
My goal for the new year: To become melted white cheese on the back of a hermaphroditic alligator's rapidly expanding vaginal cavity, while five growing but still childlike penises melt and constantly reform in the fallopian cenote of my dreams.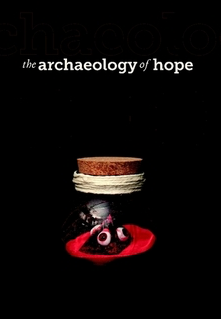 It's very exciting to see that the catalogue for the Archaeology of Hope, an international surrealist game, exhibition and ritual held on the Isle of Wight in 2017, is now available from Head Louse Press. This gorgeous catalogue contains many strange and shocking wonders from the surrealist future.

"The Archaeology of Hope was launched on the winter solstice of 2016, with an invitation to a game that culminated on the summer solstice of 2017. This book is a catalogue of the results of the game, and a record of the exhibition and performance ritual that sprang from it."