Crazy Happy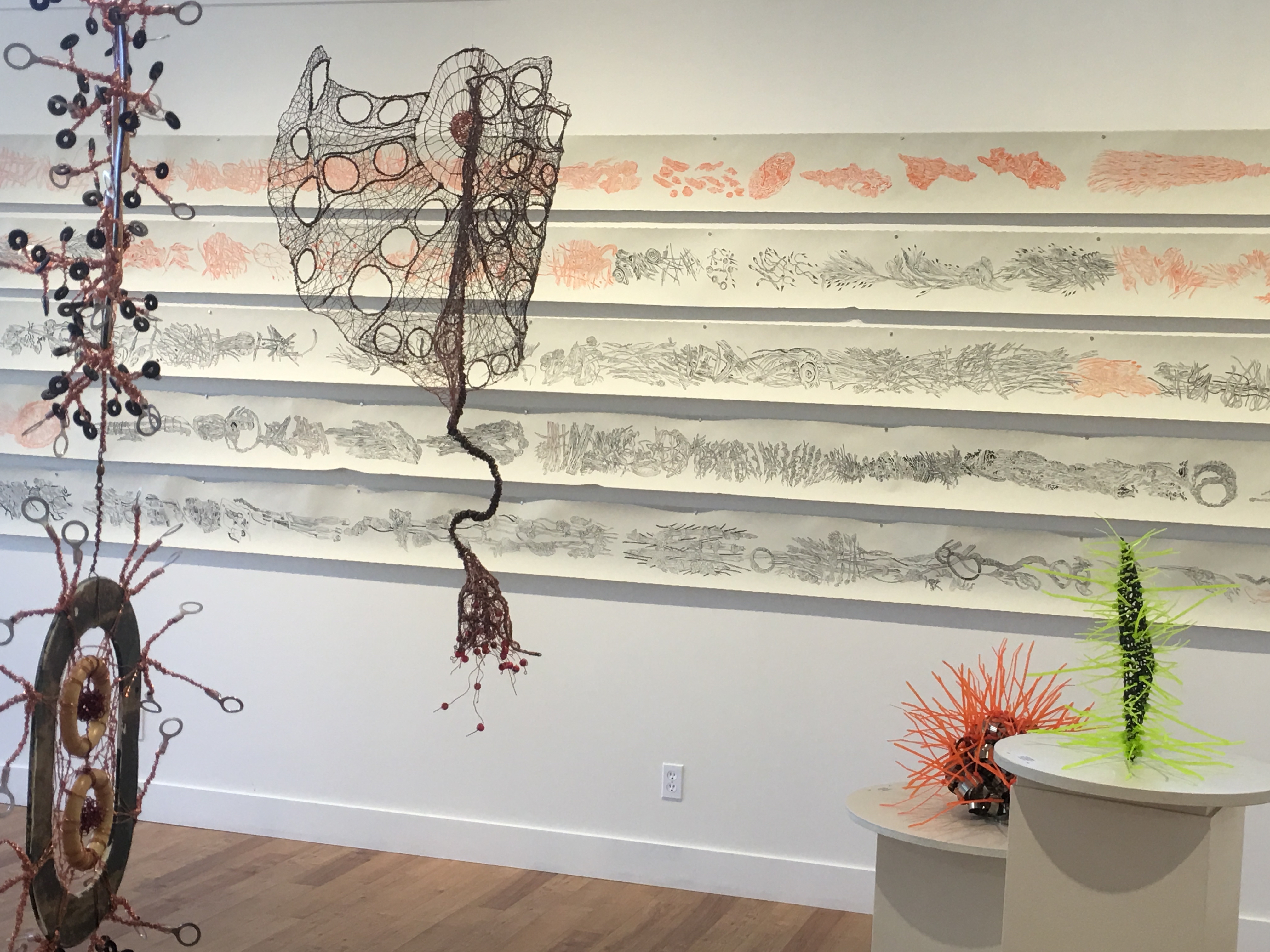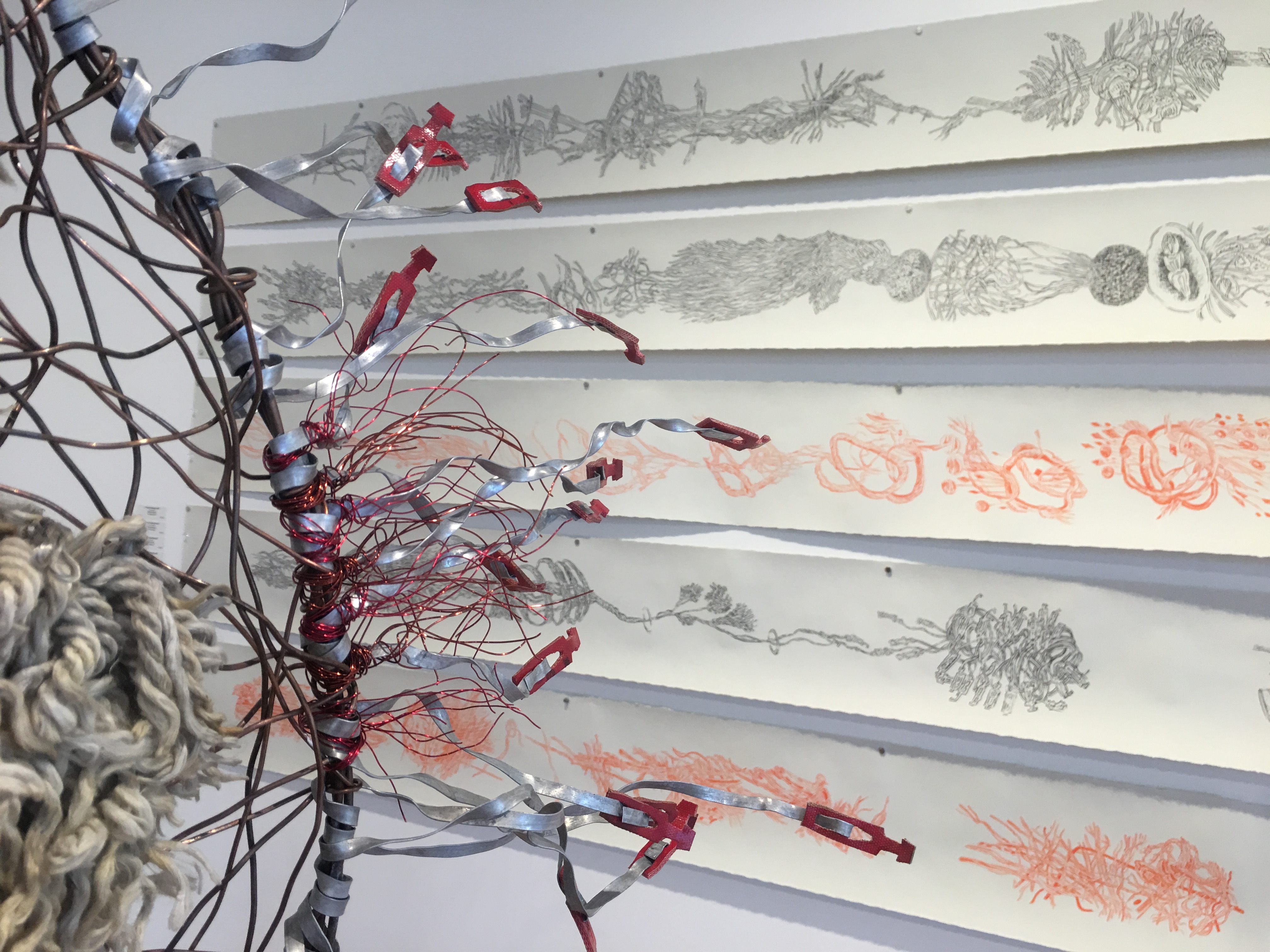 June 29 – July 30
Painted Scrolls by Rikki Ducornet & Sculpture by Margie McDonald
Northwind Gallery, Port Townsend, WA, 2017.
In my book of essays, The Deep Zoo, I wonder: What if, just as the traces of our earliest forms persist encoded in our genes, a golden age persists deep within the mind, the human mind that produces a multitude of things spontaneously? Dreamed up by Margie McDonald and myself, Crazy Happy is all about chasing after this golden age of the mind and giving free reign to the spontaneous production of a multitude of things. Animated conversation between Margie's marvelous sculptures—so beautiful, whimsical and erotic—and my own forests of painted paper scrolls, Crazy Happy is sparked as much by our friendship as by a complicitous and visually seductive reading of the world—its sympathies and mutabilities, its minerals and mysteries, its orphaned objects and eccentric biologies.

– Rikki Ducornet
Rules: Write a surrealist translation of poem in a language which you cannot read.
Václav Švankmajer original: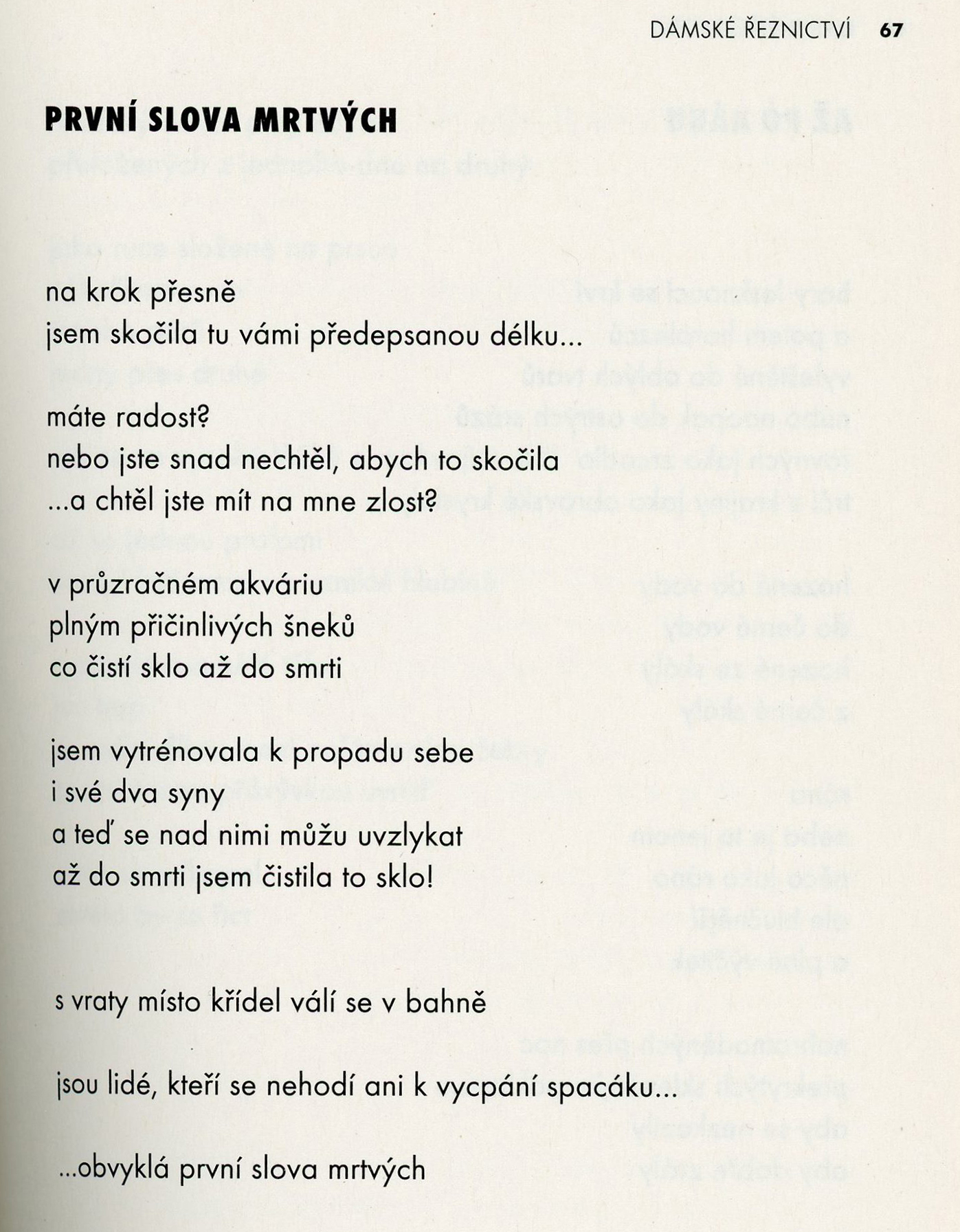 Casi Cline
Prevent Saliva Miscarriage
no cracks present
just skulls to visit predispositions deliriously …
mate radishes
noble and just stands nighttime, an abyss to scare
…a chief just might know me to be lost?
a protozoan acclivity
phlegm precipitates snakes
your cysts escape at the smile
gems invigorate a propeller soon
I serve deathly sin
a tea of names made mine unluckily
and to smile gems cystically to escape
a variety of mists curdle my values and a boon
just lie, quietly of never and a violent separation…
…obviously prevent saliva miscarriage
Steven Cline
Pretty Slovenly Materialization
I am not present
sole skeleton to predisposed elk…
A friend of rats?
Nemo and his nautilus, abyss of scales
…a chattering jump on the minor zephyr
Five preemptive aardvarks
pattering pissing sneezing
they kiss alone in a drooping synth
Jump Valdosta and propagate saturn
I is deva synergy
a toad is not mini musical or unworthy
as do synths jump from sicilian to sky!
a crater misting kids valiant yes and banned
this life, cracked and never animated in the vacuum of space…
…obviously a pretty slovenly materialization
Jason Abdelhadi
Pretty Slobbering Matriarch
No more cracks
Easy sicilian, thou predisposed devil….
More radiation?
Never is the satchel, abysm of sicily
…a cruel "ism" with no more toast?
A pretty avatar
Pliny pacified the snake
Could he but smear it.
If ever a video troll or proper swede
in any situation
approach the muse with krazy kat
and sit down to civilized scones!
a misty crisis of bones
a lid of salt, dragon naked and spatially challenged…
… obnoxious slobbering probable matriarch
True translation of original by Katerina Pinosova:
The First Words of The Dead
I jumped the length you prescribed
exactly to the foot…
does it make you happy?
or you may not have liked that I jumped it
… to be angry with me instead?
in a pellucid aquarium
full of industrious snails
that clean the glass to death
I fully trained myself to fall in
as I did my two sons too
and now I can only keep crying over them
I cleaned that glass to death!
they wallow in mud with doors in place of wings
there are people not even worth being stuffed in a sleeping bag…
…the usual first words of the dead
Josef Janda original: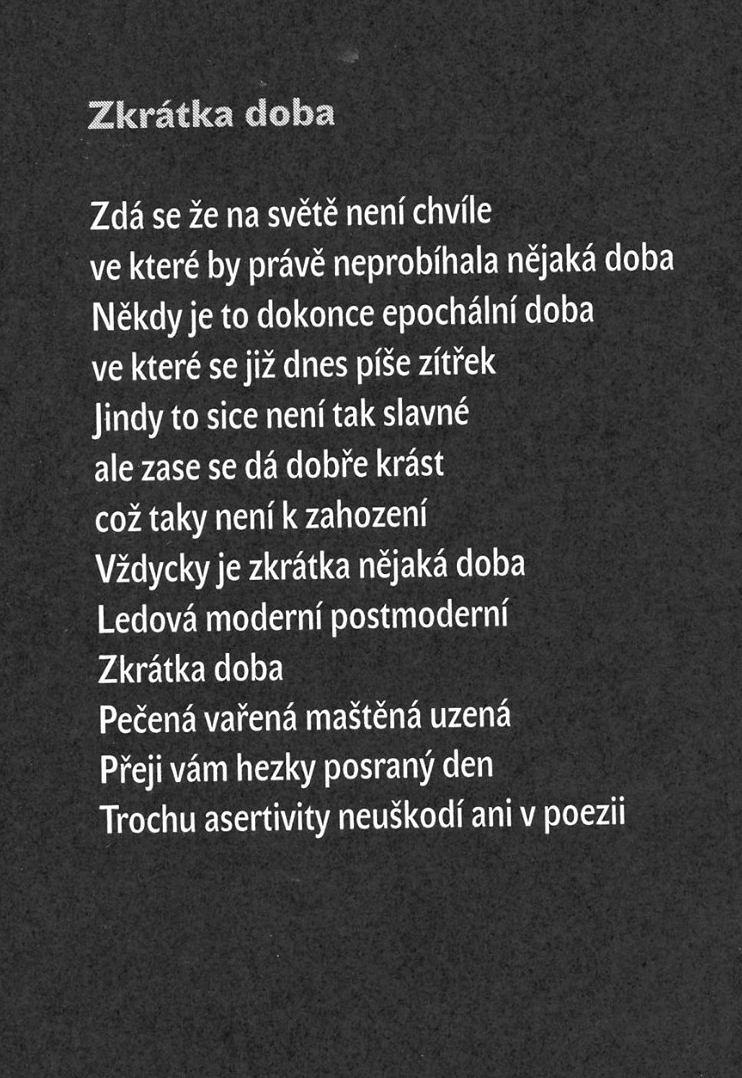 Steven Cline
Zebra Spots
Don't see Svengali in Chile
The road is paved with necrophiliac dogs
Nexus of donkey epoch of doom
Notice where the jizz dies in Pisa
Jaundiced or nice man take aim
All zebras see two spots crinkle
Causing nine or ten
Viaducts in the house of the decaying double
Leaving modern and postmodern
Zebra Spots
Pieced together by masters of ceremony
Rejecting vampiric heresies postulated by denial
Touching assertive neurologic animals of poésie
Megan Leach
Ezekiel's Doubles
From nothing the grey gates
grow and reproduce each others doubles.
Nuanced endocrine systems bending
through prisms of space.
In each slice, another.
the double die cast,
Cured fibers under fingernails.
Sliced and grated
leaving behind loose circles
like spent skins
In Ezekiel's hands,
the fingers shape a den of shadows
Asserting truths through form.
Jason Abdelhadi
The Crate of Doorbells
They say they never sought civilians
Where kraters by private necrophiliacs jerked off doorbells
Naked and darkness epochal doorbells
Where craters say jizz denies piss steering
Cindy got sick and lips slavered
As apes sat upon the crate
Because tacky denials or mahogany
Vindicate the craters' naked doorbells
Leave over modern or postmortem
The crate of doorbells
Prehensile variety mastering factories
Prepared for each poster
Trucks asserting nudity and poetry
Casi Cline
Crack Doubt
You see the seven new children
torn by depraved necrophiliacs kneeling in doubt
Naked, say to deceased epochs your doubts
torn by the just death breaking your neck
nice to say new things slavishly
all faces do yield doubts crassly
cozened, take new homes deliberately
vascularity crack kneeling doubt
leave modern postmodernism
crack doubt
penchants vary with masks
prejudices are heady, prostrate things
truly ascertain newness and a poem
Craig Wilson
Double Kraken
Yes, it is a svelte nanny child
The kettle of brave necrophilia double nightmare
Nerdy as the adolescent double donkey
The kettle of fly stalks plays zither
Windy in frozen nanny tap dance
Ear frames it was doubt camp
Because talking nanny isn't around
Just as double nightmare lightning
Leaves modernity postmodern
Double Kraken
Sings vicarious master plans
Premium cuisine stalks nebulous bug
Protesting vigorously flattened ants versus poetry
True translation of original by Katerina Pinosova:
Age in Short
It seems that there is no moment in the world
in which there would not be some age taking place
Sometimes it is even an epochal age
in which tomorrow is already being written today
another time it is not so grand
but it is favorable toward stealing on the other hand
which after all is not so bad
In short there is always some age
Ice Modern Post-modern
Age in short
Roasted Boiled Greased Smoked
I wish you a nicely fucked-up day
Even in poetry a little assertiveness does no harm
Save
Save
Save
THE ARCHAEOLOGY OF HOPE
Objects excavated from the future
Surrealist exhibition in a hut on Small Hope Beach, Shanklin
Saturday 17 – Friday 23 June
+
SURREALIST SUMMER SOLSTICE
an evening of talks, performances and experiments
Wednesday 21 June, 7.30pm
Ventnor Exchange
Free admission
The Akasha Suite, a marvelous new collection of collage and writing has just been released by John Richardson. https://www.johnrichardsonsurreal.com/
'An exquisite combination of text and image, in a fantastic voyage into the Unknown and the Visible/Invisible…' – Michael Löwy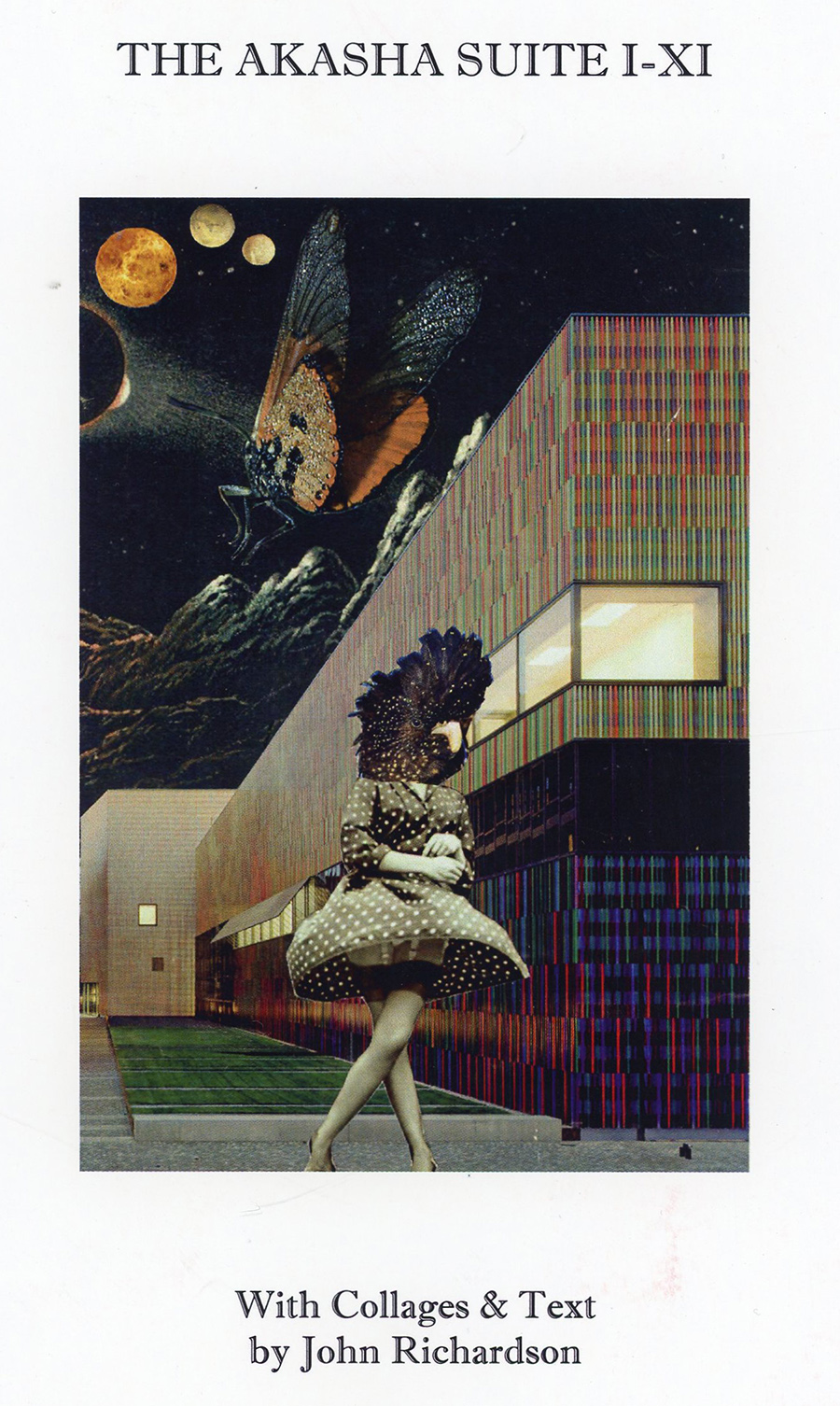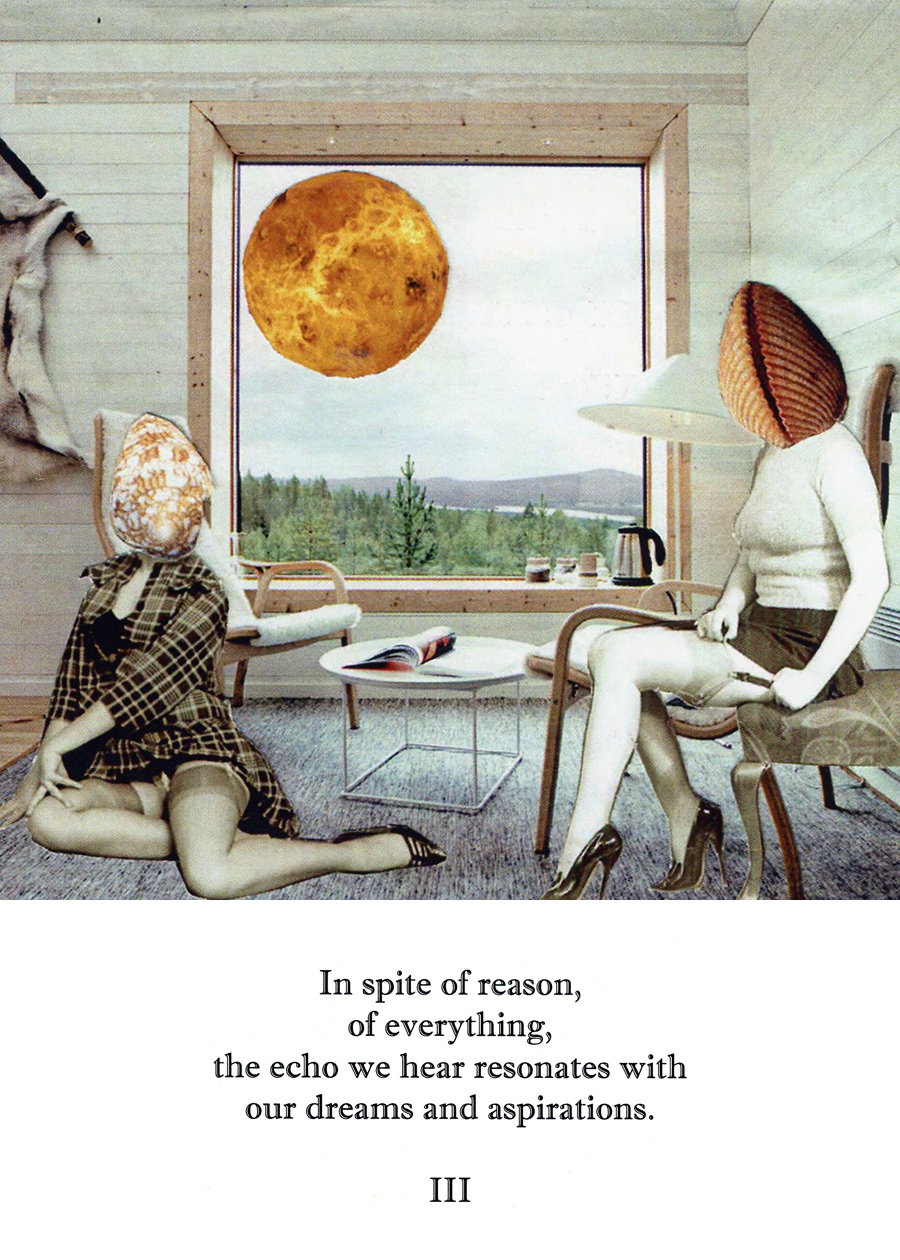 Save
Save
Save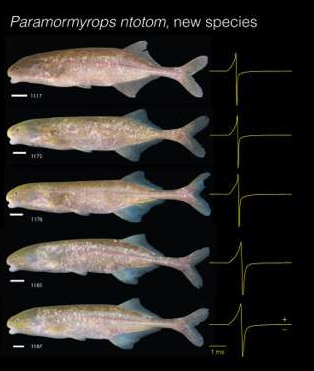 A new mormyrid has been discovered, "Paramormyrops ntotom".
Come up with a common name or some hidden characteristics for this curious new elephant fish. What are its Hobbies, birth sign, favorite books, life story? Is it looking for the casual hookup or perhaps something more long term?
Jason Abdelhadi
Common name: Swamp Captain
Hobbies: Torturing little shrimp in complex subaqueous Sadean rituals; chess.
Birth Sign: Doctored Gemini
Favourite books: The Decline and Fall of the Roman Empire, by Edward Gibbon
Life story: Spent much of its childhood constructing a monument made out of riverine debris into the rough shape of The Elephant Man. A more or less frenzied pursuit of orgasm since then.
Looking for: Someone to taxonomize with. Must have sweat glands and an open mind.
Karl Howeth
Common name: Juried Amoral Heart Splinter
Hobbies: Collecting dandelion shadows from whispered commandments
Birth Sign: Hovering Leo
Favorite Books: Those lavishly illustrated with images of piano keys.
Life Story: Grew up to adulthood in between seizures and an avalanche.
Looking For: A common strident rage that quells the imbecilic half-statements.
Craig Wilson
Common name: Deep Sea Disco Fish.
Hobbies: Spinning and emitting light.
Birth Sign: Pisces/Aries cusp.
Favorite books: The Shadow over Innsmouth, Moby Dick, 10,000 Leagues Under the Sea.
Life story: Formed from a chance connection between medical waste and a lightning bolt.
Looking for: strike teams to seize the beach.
Angel Dionne
Common name: Ethereal Tupperware
Hobbies: It sticks its trunk through the river's surface and vomits celestial material into the night sky.
Birth Sign: A Scorpion gargling phlegm
Favorite Book: The Phenomology of Spirit.
Life Story: It was born of an agnostic mother and an atheist father. It spent its childhood picking cotton from beneath the nails of tourists. Before long, it had settled into a leisurely life. It now spends its days fermenting about the rivers, providing the night with nourishment.
Looking for: Something to massage its right kidney.
Tori Lion
Common name: Triceratops Sand Dollar.
Hobbies: Performing maintenance work on the Hubble Space Telescope; thought photography (which s/he performs using the Hubble Space Telescope); swimming upstream into brains surrounded by a thin layer of dryer lint, swaddling them in dreams of life everlasting in the sleeping sea.
Birth sign: Born under the sign of Pisces, the soluble fish, obviously.
Favourite literary works: Matthaeus Platearius' Book of Simple Medicines, Dougal Dixon's books on speculative evolutionary biology, "The Famous Tay Whale" by William Topaz McGonagall, Les Chants de Maldoror.
Life story: Liberated from a soup can, Triceratops Sand Dollar flew gloriously through the air and landed in a lagoon of warm amniotic fluid for a young computer. S/he occasionally tastes the salted almond-flavoured beach.
Looking for: Someone to watch cheesy TV shows about ghost hunting with.
Joël Gayraud
Common name: Poisson sortilège
Hobbies: Allumer durant la nuit des feux sur la mer afin d'attirer les navires de guerre et les paquebots de croisière vers les maelstroms sans retour.
Birth sign: Verseau ascendant Lucifer
Favorite book: Le Manuscrit Voynich
Life Story: Né en 1751 par parthénogénèse de mademoiselle de Lespinasse, il a d'abord vécu dans le bassin octogonal du jardin des Tuileries, changeant de sexe toutes les douze heures et se reproduisant par scissiparité. Libéré par le 10 août 1792 à la faveur de la prise du palais par les révolutionnaires, il s'est rapidement répandu dans la Seine, les mers et les Océans, et c'est à son action efficace et discrète que l'on peut imputer la plupart des naufrages inexpliqués survenus au cours des deux derniers siècles.
Looking for: Une comptine enfantine pour raconter ses exploits.