Mariusze Figle, a surrealist emergence from subcarpathian Poland.
You can check out their blog here.
mushrooms-man on the bank of great water separating two black lands at the moment of vision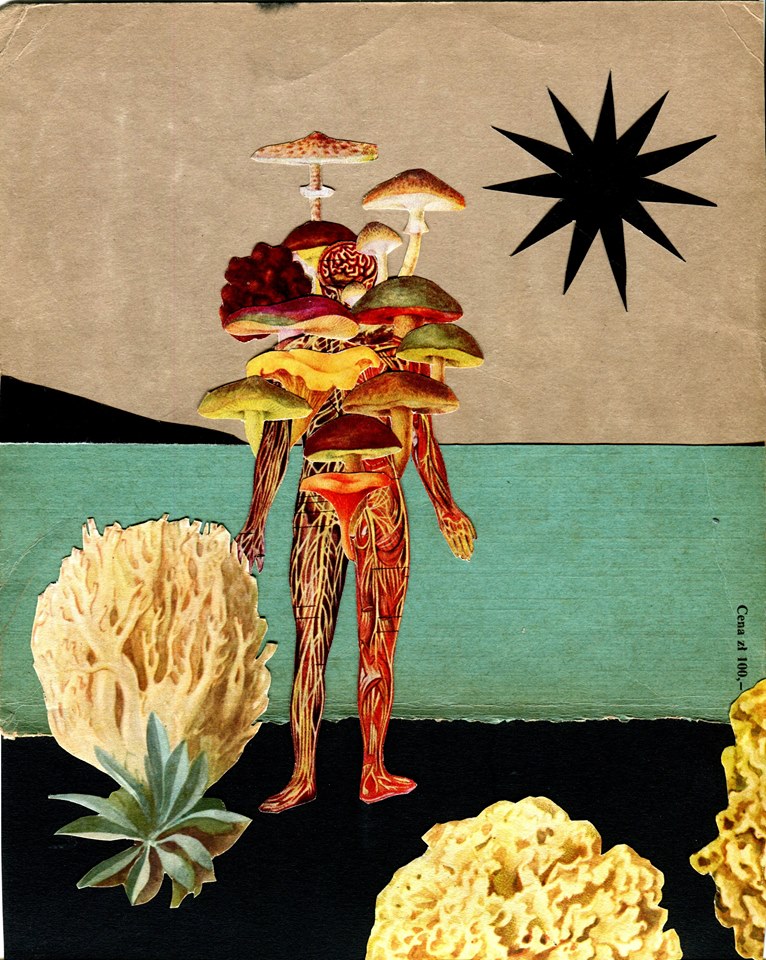 This microscopic moment was spotted on June 10, 2018 by Guy Girard who was accompanying Jason Abdelhadi and Amber Craig through the marché aux puces in Saint-Ouen. Photo by JA.
June 7-10, 2018
Revolutionary Imagination:
Chicago Surrealism from Object to Activism
Exhibitions, Film, History, Theory,
Manifestoes, Theater, Poetry, & Music …
at Various Locations in Chicago
Why Surrealism?
Why Chicago?
Why Now? Why Not?
Celebrating the 1968
Chicago Surrealist Protest
Show at 50 years!
Thursday, June7, 2018
10am Panel:
Cochrane-Woods Art Center at 5540 S. Greenwood Avenue
Introduced and organized by Janine Mileaf (Arts Club of Chicago) and Jennifer Cohen (University of Chicago)
Michael Richardson (International Encyclopedia of Surrealism);
Kristoffer Nohenden (Surrealism, Cinema and the Search for a New Myth); Abigail Susik (Radical Dreams: Surrealism and Counter Culture);
Michael Stone-Richards (The Wreck of Art: Studies in the Thought of Guy Debord)
Moderated by Jennifer Wild (University of Chicago)
1pm: Tour of Smart Gallery
Bill Brown (University of Chicago), Ali Gass (Smart Gallery),
Christine Mehring (University Of Chicago)
3pm: Roundtable ( From the folks who brought you "Make Love, Not War!")
Cochrane-Woods Art Center at 5540 S. Greenwood Avenue
Penelope Rosemont (Surrealist Women: An International Anthology)
Ron Sakolsky (Surrealist Subversions: Rants, Writings & Images by the Surrealist Movement in the United States)
Myrna Bell Rochester (René Crevel: le Pays des miroirs absolus)
Winston Smith (All Riot on the Western Front)
V. Vale (Pranks! Re/Search)
Moderated by Rebecca Zorach (The Passionate Triangle)
Friday, June 8
6pm: The Arts Club of Chicago at 201 East Ontario Street
Surrealist Salon: Mad poetry by Ron Sakolsky & Penelope Rosemont & Extraordinary Improv by the Neo-Futurists
Saturday, June 9
6pm: The Study Chicago at 1837 West Fulton Street
Film: Marian Wallace, V. Vale, Tom Palazzolo
Music: Andy Alper, U Can Unlearn Guitar Band
Steve Smith & End Result Band
With the Participation or works of
Paul Garon, Beth Garon, Dennis Cunningham, Gale Ahrens, Franklin Rosemont, Rikki, Tamara Smith, Joel Williams, Ruti, Robert Green, Schlecter Duvall, Winston Smith, Joseph Jablonski & many more.
University of Chicago | Arts Club of Chicago | The Smart Gallery
The Study Chicago on Fulton
For more information:
artdesignchicago.org
arthistory.uchicago.edu/happenings/events/
dadachicago.com
---
Revolutionary Imagination: Chicago Surrealism from Object to Activism is part of Art Design Chicago, an initiative of the Terra Foundation for American Art exploring Chicago's art and design legacy, with presenting partner The Richard H. Driehaus Foundation.
Fresh Dirt, the deep South's newest artistic collective researching practicing Surrealism in the 21st Century, will host an exhibition & creative soire' in May! The collective is an offspring of previous incarnations, it's member's having originated activities as early as 1974 in Tuscaloosa, infamously known as Raudelunas, out of which birthed the first Birmingham group, Glass Veal and free improvisation pioneers of TransMuseq.
As the artists groups continued, the group has reorganized in 2017 as Fresh Dirt and is actively pursuing to connect artists who are practicing surrealist methods, conceptual theories, and influences in the 21st century. Fresh Dirt is drawing together from the core group to artists in neighboring communities the first Alabama Surrealist Sympatica, an Exhibition and Creative Soire' to be hosted by Art Town at Eastlake Station.
Along with the visual exhibition of artworks, there will be Surrealist inspired performances by the South's most potent improvisers in multi-disciplinary exploration involving dance, music, butoh, poetry, and community collective art projects in writing and drawing, and mixed-media.
Artists are coming from as far as Virginia, North Carolina, Tennessee and Georgia to collaborate and participate in the Fresh Dirt event. Many local artists are involved and participating in the Soire.' The Alabama Surrealist Sympatica, an Exhibition and Creative Soire' will be attended by art historian, Steven Harris, University of Alberta, Canada who is writing a comprehensive history documenting Surrealism in the South (Alabama). The public is invited to experience Fresh Dirt, and participate in a Salon style evening of living art, imagination, discourse, and practicing methods of Surrealist Inquiry.
The reception will feature inedible food.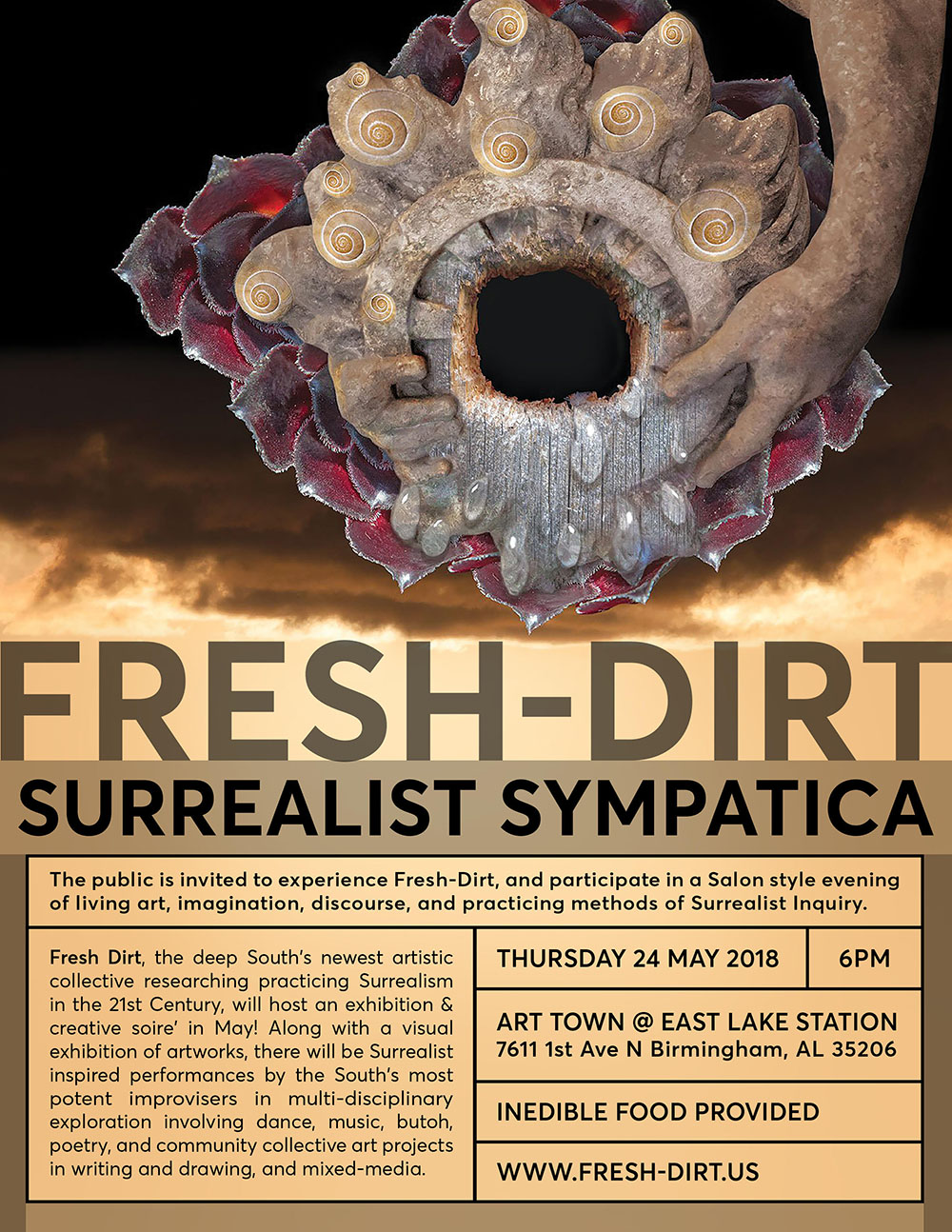 LaDonna Smith: As I step on a mass of meat on the sidewalk, it sucks me right into it, like quicksand! I struggle to break through only to be seriously sinking. Before I know it, I am like treading water, but it is really wine! I am getting a little tipsy from the bouquet, and certainly a few accidental gulps. Delirium consumes me. I wake up laughing at my now pink clothing, and join the circus of fashion, but the runway becomes another fine slab of red meat. Exercise repeated. I credit my predilection to red wine on the sudden appearance of meat and my inability to escape its inevitable hold on me. I manage its avoidance by unforeseen appearance of nut crackers and indulgence in blue beer! Life is marvelous!
Richard Smiley: It is a boon. I pick up the pulsating mass of meat and eat it raw, because that is how I and the citizens of this city receive their sustenance: from the masses of meat that randomly fall from the sky only along this one street.
Tim White: I cry with joy and recognition. The meat is my soul. I pick it up, open my shirt, and shove it back into the hole where it belongs.
Tori Lion: It turns out that the fleshly lump is the beginning of a long, slimy esophagus that latches onto my foot, slurps up my entire body, and then deposits (or, perhaps, defecates) me in a labyrinth of pretzel-shaped catacombs lying underneath Toronto.
Brett Petersen: The mass of meat splinters into an army of teratoma soldiers and they jump into everybody's mouths and convert their cells into cancerous matter. Before long, the whole world becomes cancer and in fact, planet earth itself becomes one giant teratoma.