SC: Mattias Forshage mentioned Pogo and the Okefenokee in an email, which set me off on a Pogo hunt, feeling something needed exploring down there in a vague sort of way. We only had time for a quick stop, and went to the more touristy entrance on the north. An interesting desolateness, still, and a weird little Pogo section too, old and past its prime. A Walt Kelly mannequin stuck behind glass drawing one strip in an infinite loop. We also spotted Pogo painted under a bridge and on a water tower in Waycross. Later driving home we came across a town called "Enigma", which I felt compelled to detour into. Amusing seeing the signs leading up to it too… "20 Miles to Enigma", "10 Miles to Enigma", "Enigma City Limits"…. Very small downtown, and empty too.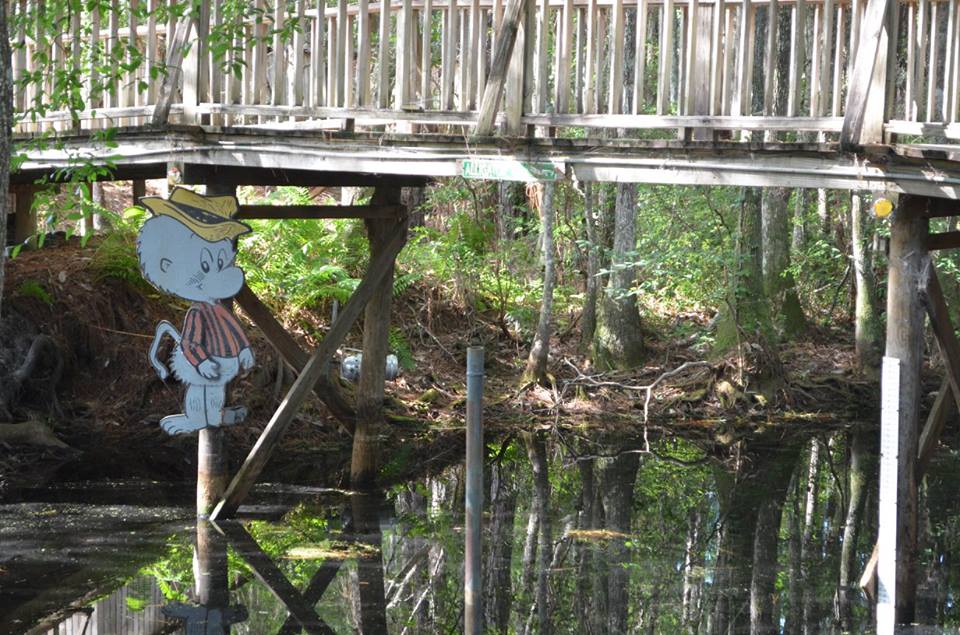 JA: Unaware of any of the previous discussions around Pogo or the trip to Okefenokee, I had the following dream on June 5, 2017. That day I also created the accompanying image. However, I did not think to share it with Steven or Mattias until after I saw Steven and Casi's images from their trip, a month later, when we discovered this curious enigma of conjoined Pogos.
JA's Dream of June 5, 2017
Mattias Forshage puts out a zine called CCANADADA REVIEW which claims on the cover that it is a continuation of investigations started by the Prague surrealist group but also derived from some interesting people he met and games played at a Canadian comic convention. The subtitle contains a logo of a black reversed Canada flag just like the "Fuck the 150th Canada" logo. The cover is bright green. The content is exclusively related to cartoons and comic stuff. On the back page, there is a full page homage to a monster he claims appears in Walt Kelly's Pogo: a giant goofy looking two headed turtle monster called OGOPOGO* who very much looks like a creature drawn in the Walt Kelly style. It has the body of a turtle, two cartoon crocodile heads and four arms. Basically a mashup of Albert Alligator, Churchy LaFemme and King Koopa. It is doing a sort of sumo shiko stomp. The homage page contains images of the monster as well as an article describing its qualities favourable to surrealism: its rage, magic abilities, strangeness, unpredictability etc.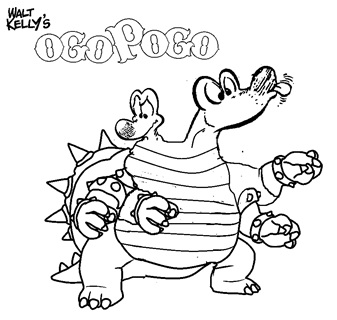 There is also a handwritten note on green paper in one of the pages of the magazine which I cannot read. I am trying to read this while walking simultaneously with AC towards the War Memorial and eat a plantain, but she distracts me with something.
*Note: Ogopogo has been a recurring word and running inside joke in many of SC's surrealist mail to me.
MF to JA: When I was trying to remember anything connected with the suggestive phrase Ccanadada I heard music in my head. Someone is singing "Floridada, floridada", the same basic pun. It's the title song of last year's Animal Collective album, which the random shuffle generator on my music player clearly likes and has chosen to play for me five times in the few weeks since I imported the record (which is really a lot with a big library), after having purchased it in London, and in your company, if you remember the record which I asked for your bespectacled vision to check in the shop twilight whether the minute dull-pink print on the cream sleeve actually confirmed that it was last year's album; this would have been a week after your dream. Animal Collective connects with Pogo and his friends, and Steven was asking me whether there was any place I could recommend from my time in Florida when I kept going on about Pogo instead.