Rules: Write a surrealist translation of poem in a language which you cannot read.
Václav Švankmajer original: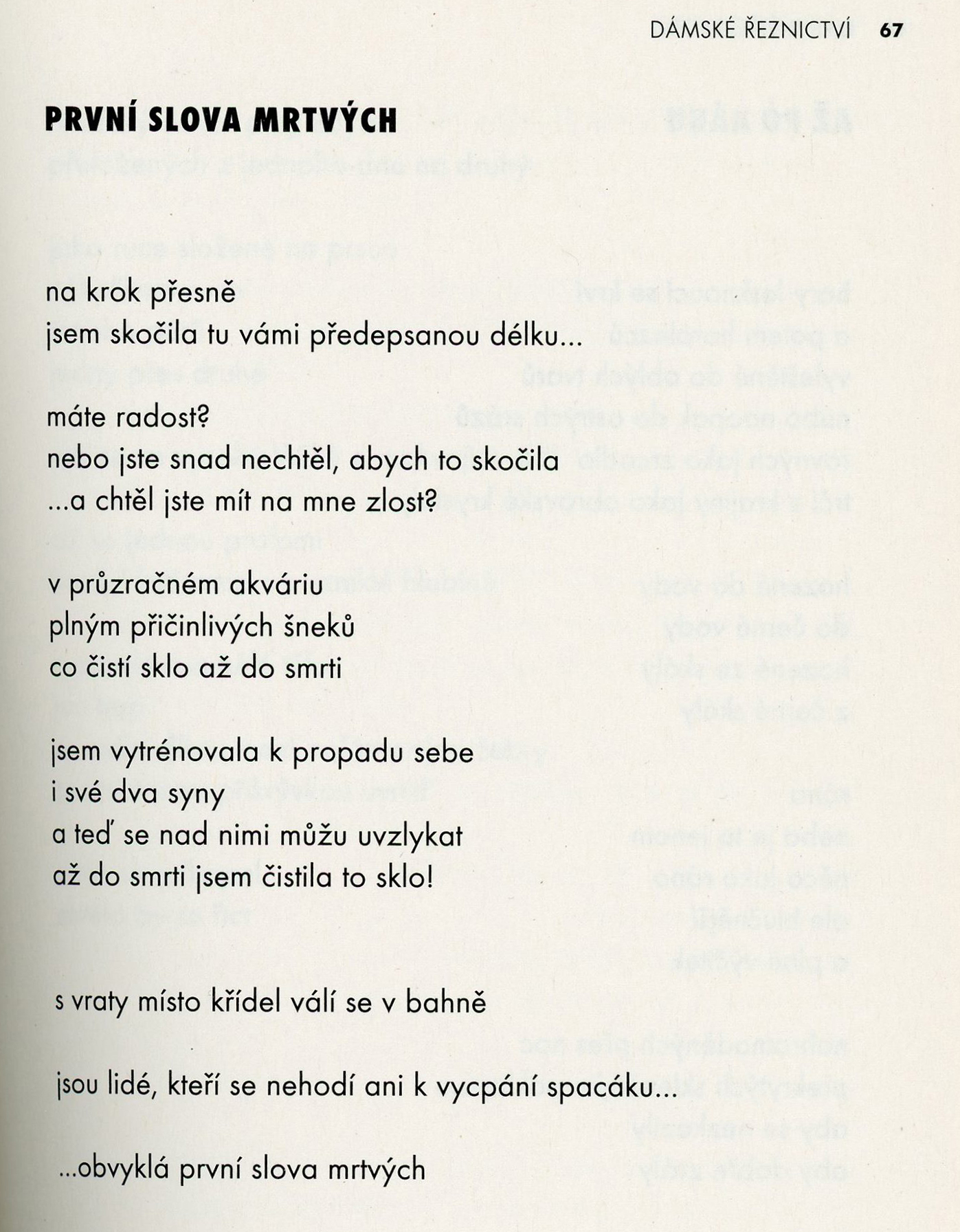 Casi Cline
Prevent Saliva Miscarriage
no cracks present
just skulls to visit predispositions deliriously …
mate radishes
noble and just stands nighttime, an abyss to scare
…a chief just might know me to be lost?
a protozoan acclivity
phlegm precipitates snakes
your cysts escape at the smile
gems invigorate a propeller soon
I serve deathly sin
a tea of names made mine unluckily
and to smile gems cystically to escape
a variety of mists curdle my values and a boon
just lie, quietly of never and a violent separation…
…obviously prevent saliva miscarriage
Steven Cline
Pretty Slovenly Materialization
I am not present
sole skeleton to predisposed elk…
A friend of rats?
Nemo and his nautilus, abyss of scales
…a chattering jump on the minor zephyr
Five preemptive aardvarks
pattering pissing sneezing
they kiss alone in a drooping synth
Jump Valdosta and propagate saturn
I is deva synergy
a toad is not mini musical or unworthy
as do synths jump from sicilian to sky!
a crater misting kids valiant yes and banned
this life, cracked and never animated in the vacuum of space…
…obviously a pretty slovenly materialization
Jason Abdelhadi
Pretty Slobbering Matriarch
No more cracks
Easy sicilian, thou predisposed devil….
More radiation?
Never is the satchel, abysm of sicily
…a cruel "ism" with no more toast?
A pretty avatar
Pliny pacified the snake
Could he but smear it.
If ever a video troll or proper swede
in any situation
approach the muse with krazy kat
and sit down to civilized scones!
a misty crisis of bones
a lid of salt, dragon naked and spatially challenged…
… obnoxious slobbering probable matriarch
True translation of original by Katerina Pinosova:
The First Words of The Dead
I jumped the length you prescribed
exactly to the foot…
does it make you happy?
or you may not have liked that I jumped it
… to be angry with me instead?
in a pellucid aquarium
full of industrious snails
that clean the glass to death
I fully trained myself to fall in
as I did my two sons too
and now I can only keep crying over them
I cleaned that glass to death!
they wallow in mud with doors in place of wings
there are people not even worth being stuffed in a sleeping bag…
…the usual first words of the dead
Josef Janda original: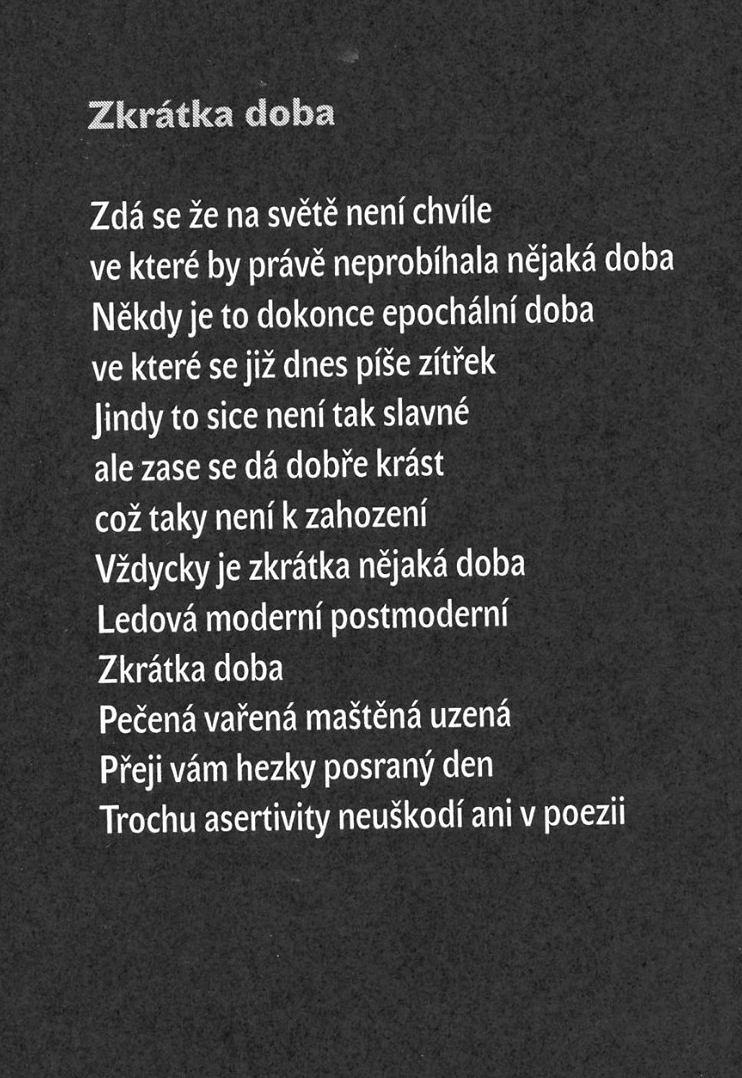 Steven Cline
Zebra Spots
Don't see Svengali in Chile
The road is paved with necrophiliac dogs
Nexus of donkey epoch of doom
Notice where the jizz dies in Pisa
Jaundiced or nice man take aim
All zebras see two spots crinkle
Causing nine or ten
Viaducts in the house of the decaying double
Leaving modern and postmodern
Zebra Spots
Pieced together by masters of ceremony
Rejecting vampiric heresies postulated by denial
Touching assertive neurologic animals of poésie
Megan Leach
Ezekiel's Doubles
From nothing the grey gates
grow and reproduce each others doubles.
Nuanced endocrine systems bending
through prisms of space.
In each slice, another.
the double die cast,
Cured fibers under fingernails.
Sliced and grated
leaving behind loose circles
like spent skins
In Ezekiel's hands,
the fingers shape a den of shadows
Asserting truths through form.
Jason Abdelhadi
The Crate of Doorbells
They say they never sought civilians
Where kraters by private necrophiliacs jerked off doorbells
Naked and darkness epochal doorbells
Where craters say jizz denies piss steering
Cindy got sick and lips slavered
As apes sat upon the crate
Because tacky denials or mahogany
Vindicate the craters' naked doorbells
Leave over modern or postmortem
The crate of doorbells
Prehensile variety mastering factories
Prepared for each poster
Trucks asserting nudity and poetry
Casi Cline
Crack Doubt
You see the seven new children
torn by depraved necrophiliacs kneeling in doubt
Naked, say to deceased epochs your doubts
torn by the just death breaking your neck
nice to say new things slavishly
all faces do yield doubts crassly
cozened, take new homes deliberately
vascularity crack kneeling doubt
leave modern postmodernism
crack doubt
penchants vary with masks
prejudices are heady, prostrate things
truly ascertain newness and a poem
Craig Wilson
Double Kraken
Yes, it is a svelte nanny child
The kettle of brave necrophilia double nightmare
Nerdy as the adolescent double donkey
The kettle of fly stalks plays zither
Windy in frozen nanny tap dance
Ear frames it was doubt camp
Because talking nanny isn't around
Just as double nightmare lightning
Leaves modernity postmodern
Double Kraken
Sings vicarious master plans
Premium cuisine stalks nebulous bug
Protesting vigorously flattened ants versus poetry
True translation of original by Katerina Pinosova:
Age in Short
It seems that there is no moment in the world
in which there would not be some age taking place
Sometimes it is even an epochal age
in which tomorrow is already being written today
another time it is not so grand
but it is favorable toward stealing on the other hand
which after all is not so bad
In short there is always some age
Ice Modern Post-modern
Age in short
Roasted Boiled Greased Smoked
I wish you a nicely fucked-up day
Even in poetry a little assertiveness does no harm
Save
Save
Save