Rules: Write a surrealist translation of poem in a language which you cannot read.
Josef Janda original: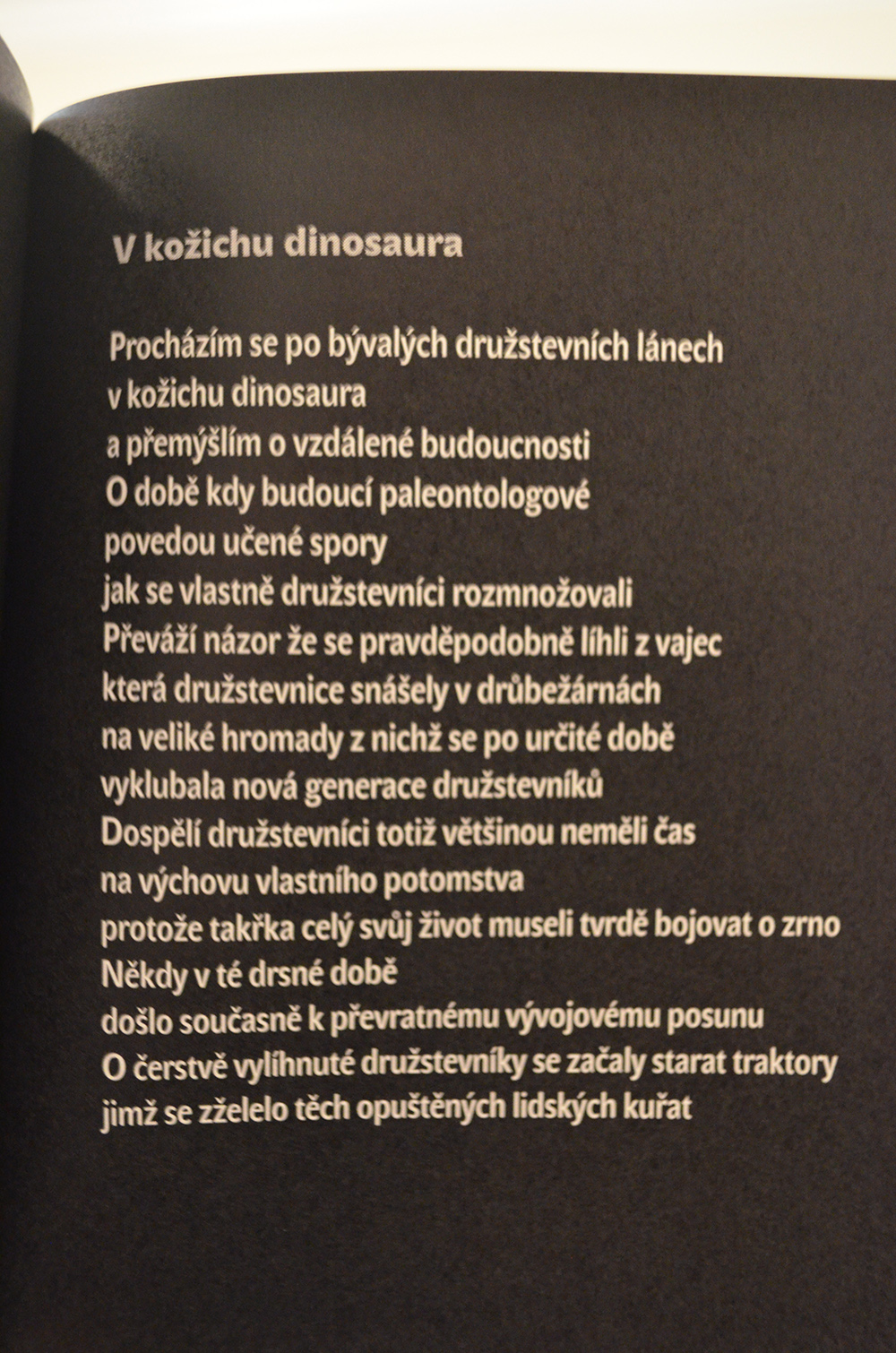 Steven Cline:
5 Dinosaur Eggs
Proclaim on the very drizzly land
5 Dinosaur Eggs
A piece of Vlad's Library card
Is Infecting the halls of paleontology
Perverse mushroom spores
Yes – the glass Dostoevsky is steaming hot
Prevail upon the pataphysician incarnate
No drugstore is equal to your saliva
No hominid is equal to your mother
Voluptuous novel testicular venom now die
No catch river potomac
Protozoa takes six swims with myself, a turd, and bottles of zero
Never was this a drop
Soap and caught in premature volume posture
O Crevasse dripping Dostoevsky see my stale trajectory
Jim is zero technology an opulent curd or kitten
Casi Cline:
a coherent dinosaur
perhaps the single survivor decaying internally
a coherent dinosaur
is pondering the complexity of religion
or doubtless posing for a beautiful paleontologist
picture the obscene sport of it
just as veins are draining rosy life-blood
the prehistoricus needs to know precisely how to look
kill distain surrounding a night of death
so very harmonious and dark and so unctuous
victorious cosmos regenerating the deceased
dispel the death fear totally and envision time ceasing
no vision of destruction remains potent
protect and take blue eyes so none are left behind
never a time descended down
dulcet prehistory casts a violent shadow
or certain villains drain the stars of traction
just a sleep the opiate lids fall closed
Jason Abdelhadi:
Five Cossack Dinosaurs
Pro-chasm Sid poured his beverage outside the window
Onto an expensive dinosaur
Who spoke in the accents of the bourgeoisie.
Although a paleontologist in training
He took care of several doves
But he never dried his throat ruminating such things.
Prewarned of his crime he did what he learned dolphins do
When stuck in a dangerous situation without a breathing apparatus
That is, to burrow a hole into the fossilized bottom of the sea
In the hopes of inseminating a new generation.
Dispelled into a totem of shattered vestements and cash
A trivial shard of pottery from the Titanic
Nothing remained except the museum of turbo vacuum cleaners left running.
A naked mole remarked
That all of the aforementioned could have been easily prevented.
A cherry tractor churned up the fossils and left scuttling in the stars
A stereo teacher opposite a licking curate.
Bruno Jacobs:
In the dinosaurian kitchen
Proclaimed it can be, by-passing druid lichen
in the dinosaurian kitchen,
a slim prize for gliding into the future.
Or double every future paleonthology,
poor sportive scene
as druidic power touches newness.
Foreseeing noses that truly duplicate in the void,
every becoming druid scoffes tomorrow's duty,
barely hairy, chromed by night to make himself double,
clubbing new generations of druids.
Two druidic hairs total the case of a non-existent neighbor
after Vishnu, the power to come,
rich purpose in the sky which muse belates, handcuffed or not.
Nobody wishes you double
down the stairs in a preventive foreseen youth posture.
I serve you, velvety, druidistically, shaking like a starting tractor;
life is a jealous roof opposing cured leadership.
Joël Gayraud
Dans les chaussons des dinosaures
Dimanche prochain les ballerines glisseront sur le lac
dans les chaussons des dinosaures
d'un pied aérien à la barbe de la nuit
Ô double clef barbelée des paléontologues
poudrée de spores incandescents
déjà les danseuses se poudrent de rose musquée
Pour se prémunir du néant qui se pavane ici bas
les belles ont inscrit le signe de la double étoile
sur la gamme chromatique où se nichent les orties blanches
à défaut de nouvelles fleurs carnivores
Spectralement vêtues de leur nudité muette
elles blasphèment à la sortie des cimetières
et arrachent les tuiles du ciel pour les lancer à la tête des dieux
Aucun de leurs amants
ne soutient l'imposture des violons prophétiques
Sur le cercle aimanté de l'attraction passionnée
elles remontent le courant des transes impassibles