SC: The desire has come to me recently to step back and "file a report" on the mailings we have been pursuing for the past two years. We started with the primary goal of creating a sort of catalyst for the "mailbox marvelous". After all, who hasn't formed a certain connection with this mysterious box which sits outside of all our houses, this strange fountain of daily unpredictability? Always for me a certain mixture of hope and fear as the box is opened, with most experiences leading of course to disappointment. One has to wonder— did Ted Kaczynski really want to overthrow industrial society, or was he just a violent man in love with postal surprises? On the flip side, even the Corporate Cthulhu has caught on to this desire in recent years, releasing a plethora of banal subscription box services for the more desperate and deluded seekers of postal adventure. But still in the back of all our minds sits the strange feeling that somehow these constant bills and spam are wrong, morally wrong, sick in fact — and that this little box is meant for greater things. Due to the ephemeral nature of the project, the vast majority of it all is who-knows-where, but I've made an attempt to gather up what myself and others have documented. A few descriptions and examples follow.
CC: The post is an excellent means by which to generate art as an interactive and tactile experience. So much of the way we share art with each other is digital. Or even if we are viewing art at a gallery, it is still usually a flat image on a wall or a cordoned-off sculpture. Visual art thus organized is an input only, valuable of course, but somewhat distanced from the viewer. Published writing also takes on a kind of distance through medium, though it can still feel very intimate as it speaks directly to our minds. Very seldom are we allowed let alone invited to touch, manipulate, and alter art. With mail art, particularly surrealist mail art, both the sender and the receiver are given a unique experience and connection with each other. The sender puts together the package or envelope with a specific person in mind, creating the finished or partial art or objects, getting it ready for mailing, and sending it out to that person who could be almost anywhere in the world. The receiver gets a mysterious and marvelous experience when they open the mailbox to find an unexpected package that could contain anything. Opening the package and perusing its contents, the recipient gets to feel the objects contained within and see them up close. They can then keep these to be experienced again at a later date or alter them and send them back to the sender or a new recipient, keeping the experience an ongoing collective one.
Packages
SC: We started off making elaborate and time-consuming "packages", in concept something more like a Cornell box in an envelope. Collaboration was never actually intended and was a factor completely overlooked by us, though some surrealists ignored our intentions added to them anyway! This alerted us to that rather obvious factor – that our mailings could (perhaps should) be a two-way conversation. No photos remain of these that I know of.
Postcard
SC: The postcard phase started with these rules:
1. Grab a postcard. Collage the front or parts of the back if you like, but leave space for writing.
2. Choose two imaginary names at random – one for the person addressed, and one for you.
3. Write automatically in the form of a correspondence and mail to anyone.
These were of course abandoned after a time in favor of an "anything goes" approach. The postcard has proven to be the most participated in phase. Collage & writing sew together in a quick and liberating back-and-forth. Jay also used a postcard as material for a digital response.
JA: Someone is on vacation. They are sending me unasked for mementos of uncanny, frankly suspicious locations. I am put-out. What are these sightings? Are they tourist traps? Are they evidence of a poetic rupture? Or a derangement of the proverbial scenic route? "Ogopogo or Piero de Cosimo?" I am asked to choose between the monster I was obsessed with when I was 7 (I owned many bestiaries) and the painter of Andromedan sea-monsters. A mystic mandrake beneath a poet's bridge. Eventually I find myself responding to these curious stopping points with dreadful sightings of my own. I fling them into the post-box and only afterwards think about where I might have been.
Collage collaborations
SC: Andrew joined in first. One of us would send a background, which would then be added to and mailed back and forth to each other until finished, creating beautiful images of people and animals in transformation. Johnny took a crazier approach, sending us large packets of snippets which we might add to or merely be confused by, which we then returned with more snippets which he would transform in bizarre ways. This process has been very freeing, a non-goal oriented approach and very automatic. From Tim came a 60 page collage book filled with wonder, and using a few of the pieces we'd mailed him over the year.
Zines
JA: There are monthly infiltrators interleaved between the orthodox flyers and bills. The mailbox transforms its internal atmosphere; from a utilitarian extension of the office it suddenly seems more like a bird's nest for the marvelous. Ephemeralities? Raptures? Odds and ends, announcing the birth of a new moon? Or perhaps these are the new go(e)thic aquaria we saw on our sea journey; encapsulated, electrically back-lit, but evocative of an alternate life. Obscure and confident communications from a demoralized agency, often instructional in nature, and very likely to have a direct bearing on my everyday life in a most unexpected and dramatic way. Booklets that mimic with cruelly black and blue humor the digital alarm clock's step-by-step commandments, but from a reverse technicolor shadow-realm. We keep everything but fish in these. They bring me dreams, obscure narratives, alerts. They traumatize my city (Ottawa) with pathetic environmental resonances. I can cite three instances: in Rapture 17, a narrative poetic sequence about oneiric sinkholes seem to coincide in its appearance with an epic sinkhole in the city's downtown core. "Where did this sinkhole come from?" it asks me. A public lecture on local butterflies coincides with the arrival of a whole series of Dream Zines, Ephemeralities and Raptures swarming with ominous lepidoptera, which, apparently found my ecosystem suddenly suitable for paranoiac intrusion. As for the great sewage backup in the basement of a typical office space, I can only attribute its subjective cause to the untimely arrival of a Rapture which contained an unwholesome advertisement for the "Miniature Enthusiasts of Ottawa" along with an image of a loathsome, brown, cacophallic tentacle emerging from a basement door. We can only hope that future disasters are big enough to wipe out all memory of their occurrence, and leave us dumbfounded with the lemonade sea we are craving. To quote Ephemerality 2: "Everything designates that a great reversal is at hand."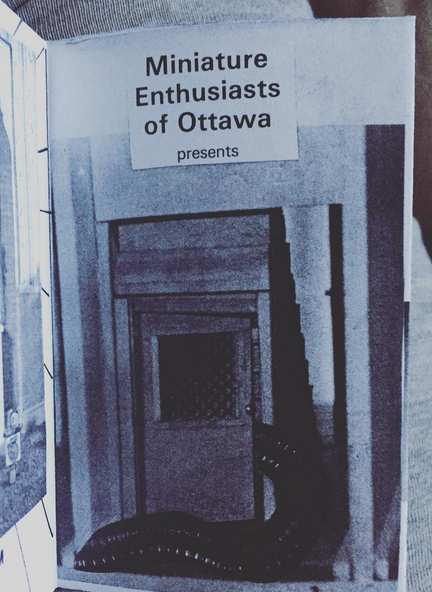 Save
Save
Save
Save
Save
Save
Save
Save
Save
Save
Save
Save
Save
Save
Save