Game Played on the Night of October 12th, 2016 at St. John's (King's) Churchyard, 271 North Main Street, Providence, Rhode Island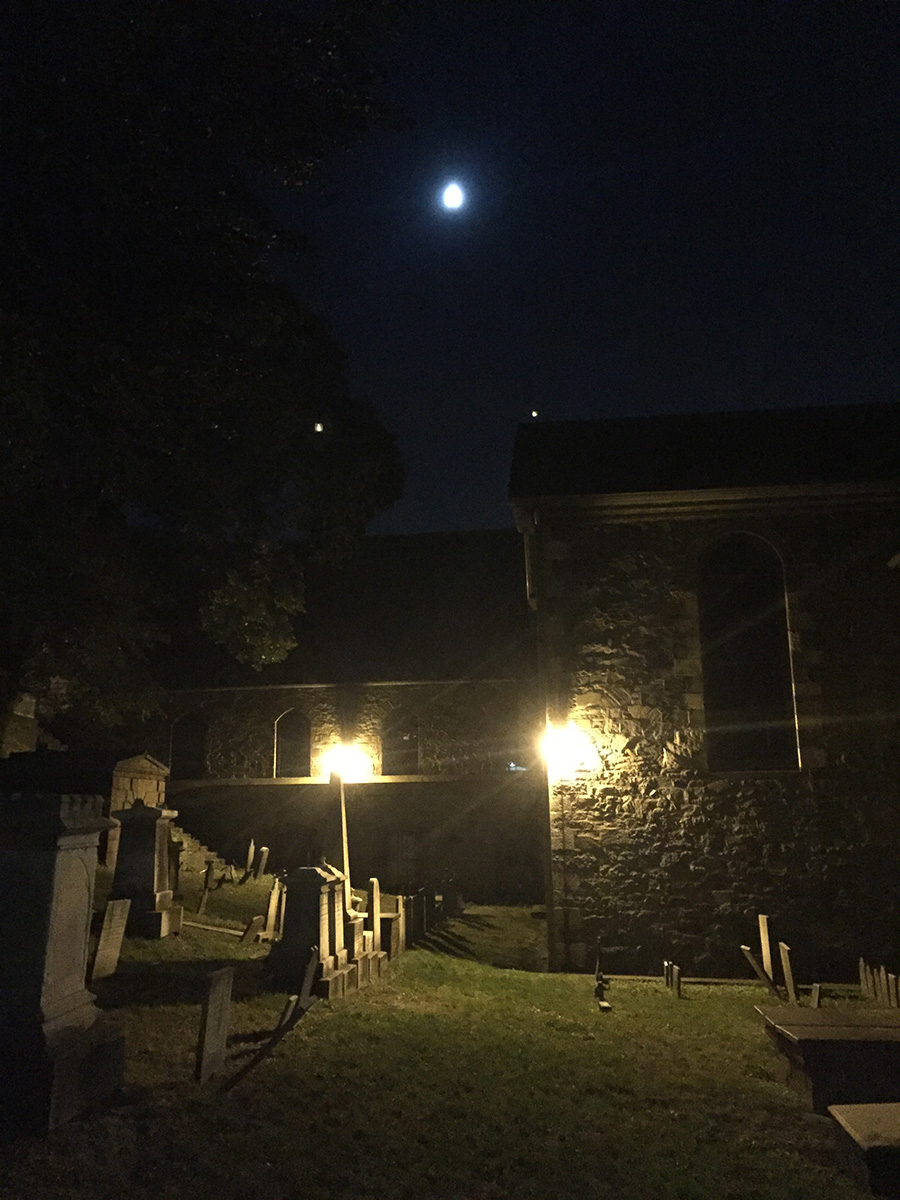 Poe knew of this place, & is said to have wandered among its whispering willows during his visits here 90 years ago. Last August I shewed this place to two guests, & we all sat down on an altar-tomb & wrote rhymed acrostics on the name of Edgar Allan Poe… (Letter from H.P. Lovecraft to Frank Utpatel, 15 February 1937)
(from www.hplovecraft.com)
Finding myself in Providence, wandering on an October night through this very graveyard, I felt a ghostly compulsion to imitate the shades of Lovecraft, Poe and company by composing some acrostics in honour of the weird… In atmospheric mimicry or repetition of the original gesture; that is, in honour of Lovecraft's ectoplasmic presence, who in turn made his gesture in honour of Poe etc. etc. all the way back to Nameless Horrors.
Like a cult from the Cthulhu Mythos, such cultivated repetition in an exclusively terroristic atmosphere is a kind of play that serves as the poetic source water for ritual, but in a much more ghoulish and comical way, replacing spiritual austerity with cosmic terror and black laughter.
That which surrealism seeks in cultivating atmosphere is an unnatural evental reduplication of a chance fixation of mood. "Atmosphere, says Lovecraft, repays cultivation; because it is the final criterion of convincingness or unconvincingness in any tale whose major appeal is to the imagination."
That atmosphere is not the result of cultivation (cause and effect) but rather a cosmic recompense (payback, or a mood that pursues the one who beckons) leads one to believe that past fixations can communicate in much the same way as a graveyard "produces" ghosts – as Lovecraft states, through convincingness.
Pursuing this convincingness, then, I nestled myself among the mouldering headstones and tree roots, inhaled the gibbous moon, leered at the four-horned steeple, drew out my notepad and set about composing a similar sequence of acrostic verse on the two great New England patriarchs of the weird and the macabre. These I jotted down in semi-panic and with near-automatic speed, with no revision after the fact, and in an eerie half-light hardly conducive to comforting thoughts.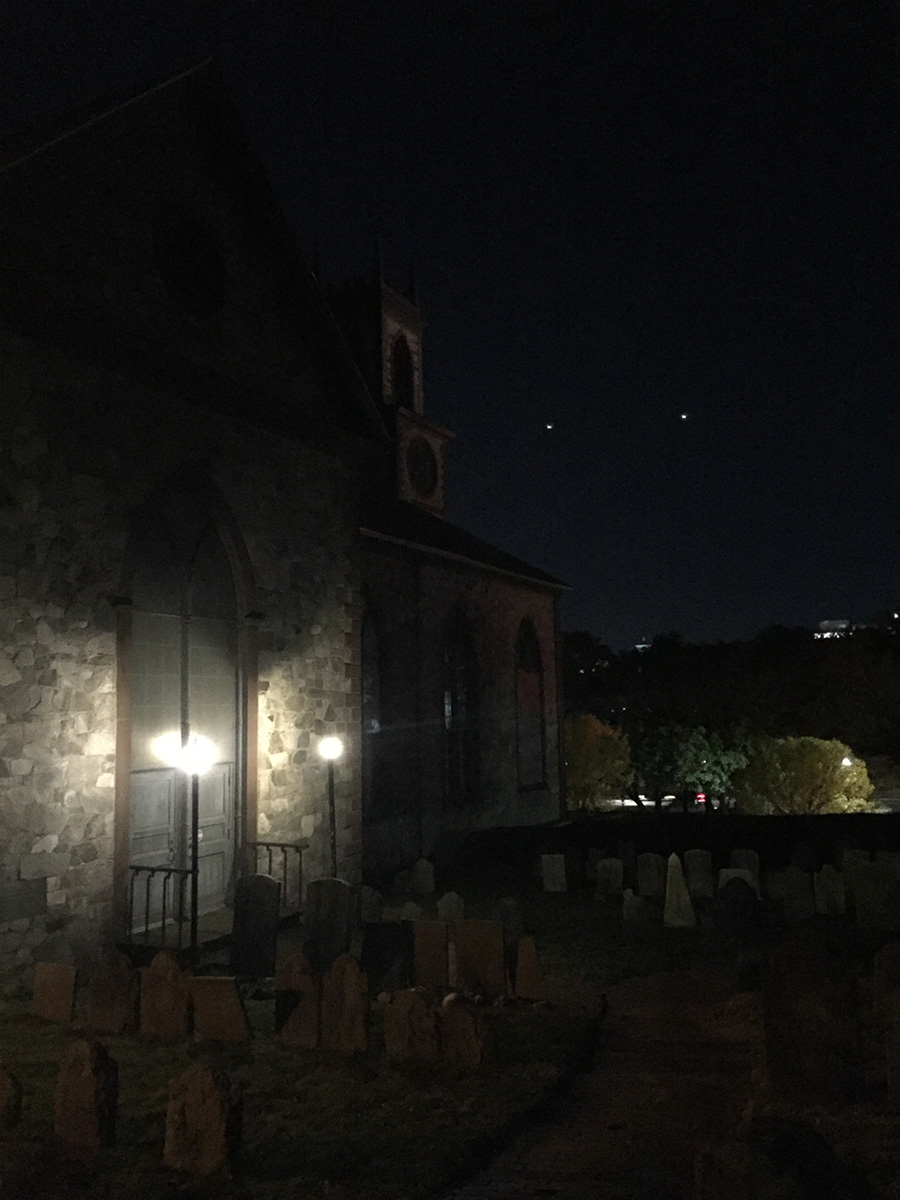 Rhymed Graveyard Acrostic on the Name of H.P. Lovecraft
Hirsute the jolly fellow came
Preposterous lout with teeth insane
Lover of demons dressed to kill
Open at heart with bitter krill
Vexatious boor with body goals
Enter my heart and pierce my shoals
Caress the brass beneath my eye
Reverse the prospect of a lie
After the fest awake my knee
For gibbous moons and all too see
Trees, ganders, triumph and a cup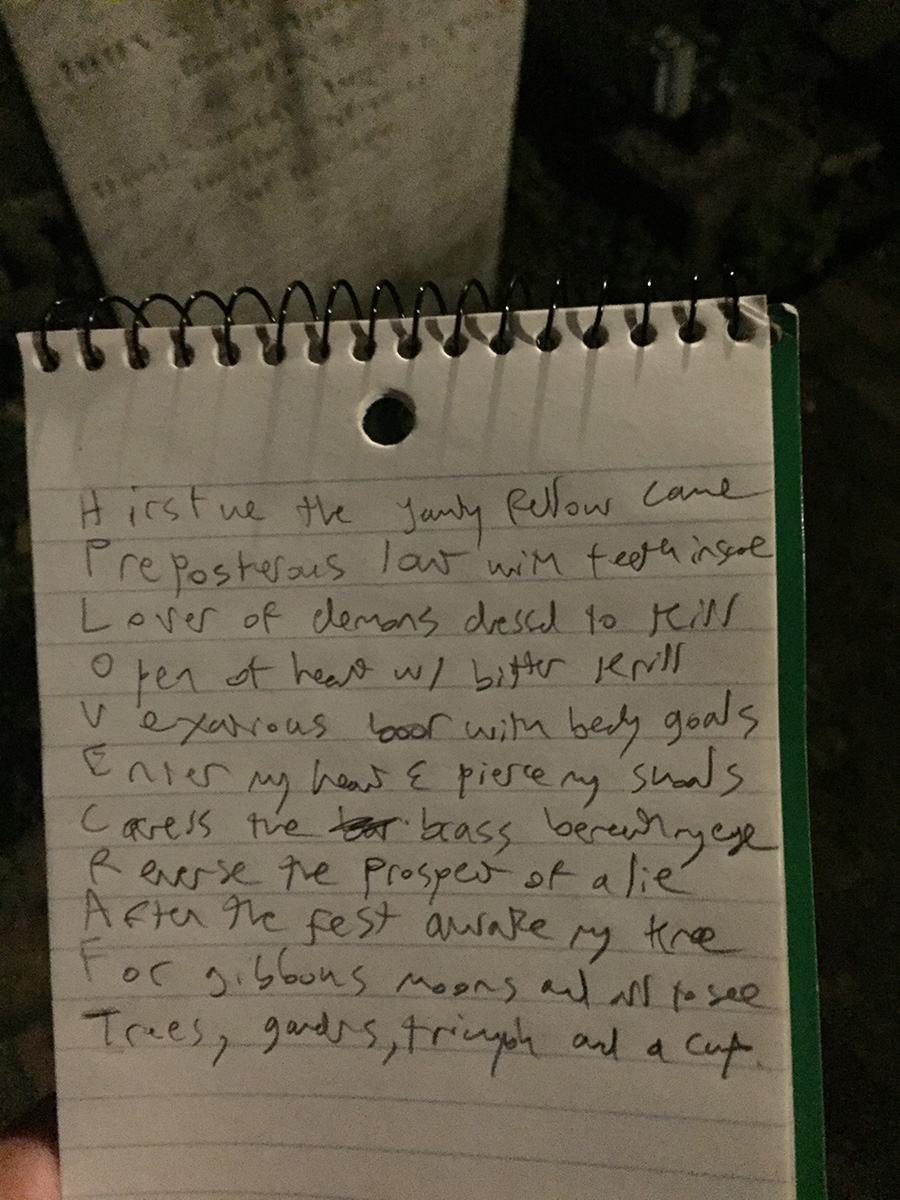 Automatic Acrostics on the Names of H.P. Lovecraft and Edgar Allen Poe
Exhume
Demons
Graded
After
Repeating
Acid
Lest
Lemons
Engage
Nevermore
Peaceful
Or
Evil



Heckle
Preening
Laced
Ovules
Venerating
Entrails
Cascading
Reptile
Alternative
Fiction
Tropes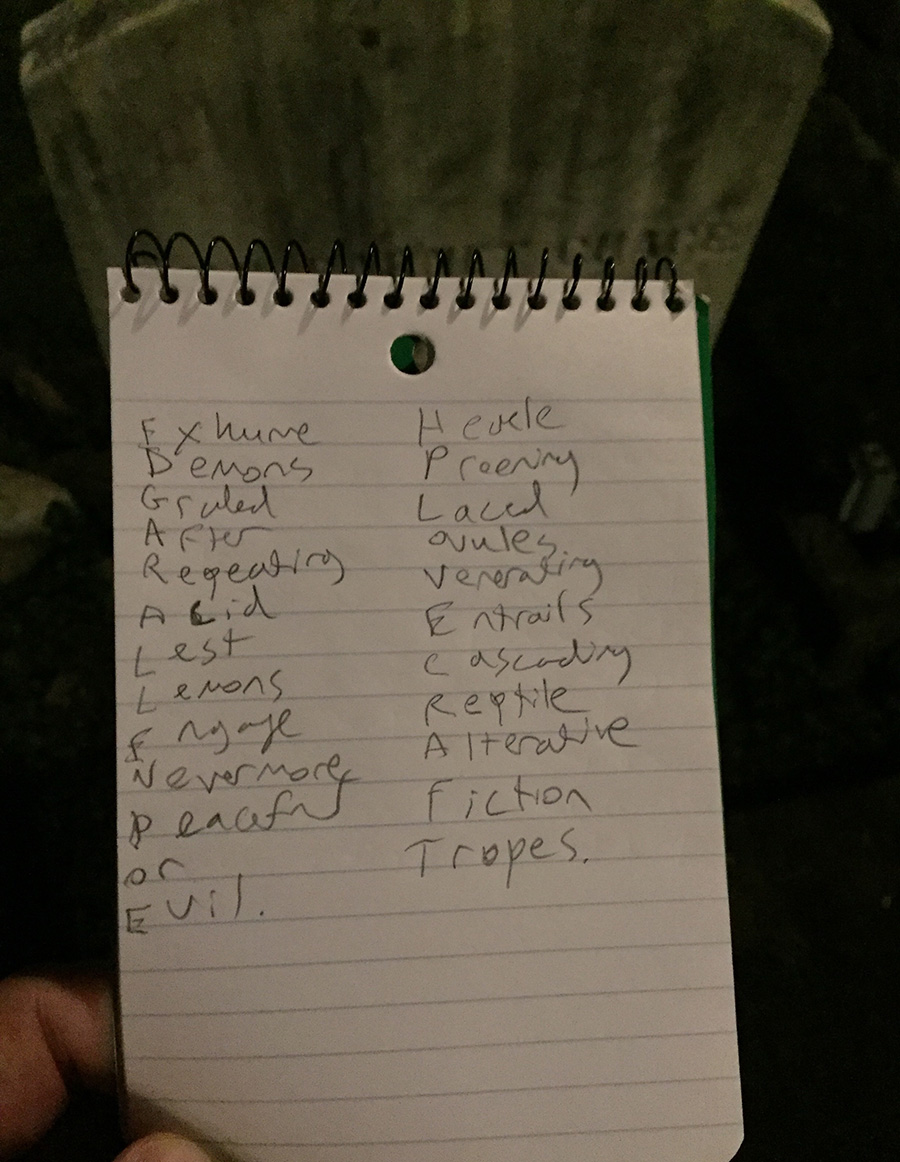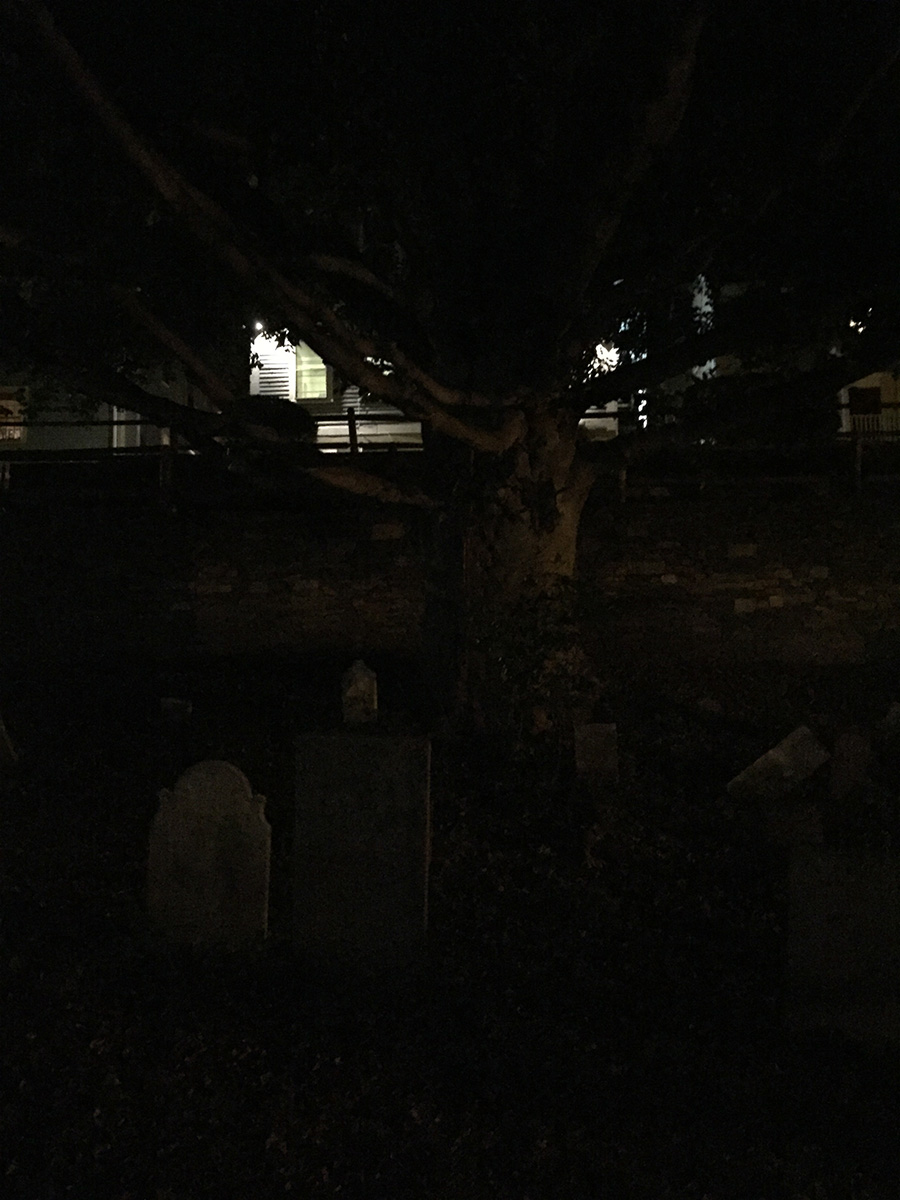 -Jason Abdelhadi